Helping in Clearing Out a Home
April 28, 2022
Cornwall Ontario – A new service is aimed at making it easier for families to declutter and/or clean out a house's contents in preparation for selling.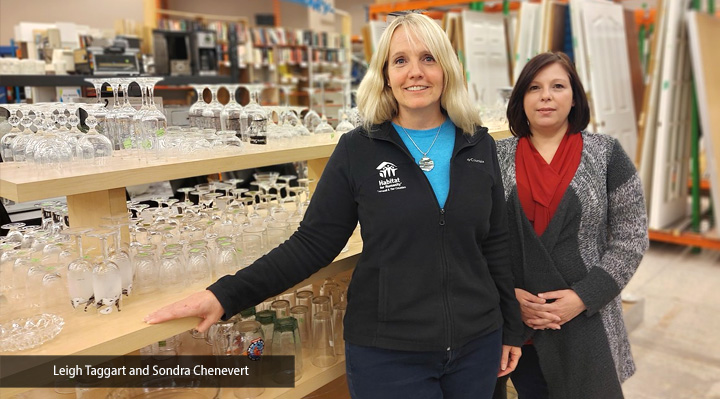 The Remove Project offers full-service advice and hands-on assistance to people needing to clear out a home, with the added comfort in knowing that the program prioritizes diverting items from the landfill. The Remove Project is offered by the local Habitat for Humanity chapter.
"I work with our clients from start to finish to provide service that is customized to their needs," says Sondra Chenevert, Remove Coordinator. "Some people need the contents from an entire home packed up and removed and others only need help with a few items. I work with them to find out exactly what they need and provide a quote for the required level of service."
Depending on the timeline, location and quantity of work there could be no fee for the service, but if there is, it is provided well in advance for the clients to make a decision. Service levels can range from curbside pick up of bulky items such as furniture, to sorting, packing and removing all types of contents from kitchen ware to electronics and tools. The team works with many local partners and associations to find a home for all items that need to be removed.
"Our priority is to divert as many items from the landfill as possible," adds Leigh Taggart, Executive Director of Habitat for Humanity Cornwall & The Counties. "We work with Agape to donate clothing, linens go to the OSPCA and any food items go local foodbanks. We even have partners to collect metals and hazardous waste."
Furniture Partners
Habitat has also created Furniture Partners, a new retail store located at 327 Montreal Road in Le Village that will take many of the larger furniture items and make them available to families in need or those looking to upcycle.  The store is a joint venture with the Agapé Centre.
"Furniture Partners provides another opportunity to sell items that are not a good fit for the showroom floor, and is a good complement to the Remove Project and our ReStore on Vincent Massey Drive," notes Ms. Taggart.
The  Remove project has completed 16 removals to date and the demand continues to grow.  As leaders in this initiative the Cornwall team will share their findings with the Habitat for Humanity Head Quarters and encourage other branches to implement similar projects. Locally the project was made possible by support from a Trillium grant and the City of Cornwall.
"Our staff and volunteers have really taken ownership of the initiative and have stepped up to run with and grow the project," says Ms. Taggart. "Our customer satisfaction surveys have been extremely positive and people appreciate the fact that they receive a tax receipt for the value of their donation."
For more information on Habitat for Humanity, Restore and the Furniture Partners visit Habitat online:
Categorised in: Business, Community, Environment, General, News