Matrix Logistics Holding Hiring Event
September 22, 2022
Cornwall Ontario – Matrix Logistics is looking to add it its team by holding a hiring event later this month.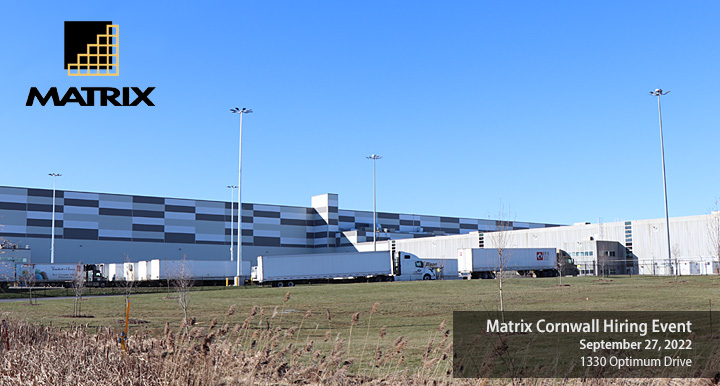 The job fair will be held at Matrix Logistics at 1330 Optimum Drive in the Cornwall Business Park on September 27:
Tuesday September 27 – 8:00am to 11:00am
Tuesday September 27 – 2:00pm to 6:00pm
"We believe that each Team Member contributes directly to Matrix's growth and success, and we're hiring people that will take pride in being a member of our team," says Rick Purdy, Human Resources Manager for Matrix in Cornwall.
Matrix is looking to hire team members that will assist in the flow of goods throughout the facility by utilizing powered material handling equipment. The salary range is $22–$27 an hour and includes a range of benefits.
Candidates are advised to contact Matrix and schedule an appointment. Come prepared with resume in hand and although the dress is casual candidates are asked to be presentable.
"We believe that an inclusive and equitable working environment allows each one of us to give our best effort.," says Mr. Purdy. "We pride ourselves on providing our employees with world class working conditions that includes a 100% company paid benefits package and pension match. Hiring is a human process, and they would like to meet you to see if you're a fit!"
Jobs at Matrix
Current employment opportunities at Matrix can be found on the Choose Cornwall Job Board
About Matrix Logistics
Matrix Logistics operates a state-of-the art distribution centre for Shoppers Drug Mart in the Cornwall Business Park. The climate controlled facility features a fully automated warehousing system and was recently expanded to include a distribution centre for Loblaw. Matrix now employs over 500 people on site.