City Relaunches Curbside Pickup Locations
December 24, 2020
Cornwall Ontario – The City of Cornwall is supporting local merchants during the provincewide lockdown by relaunching the curbside pickup locations.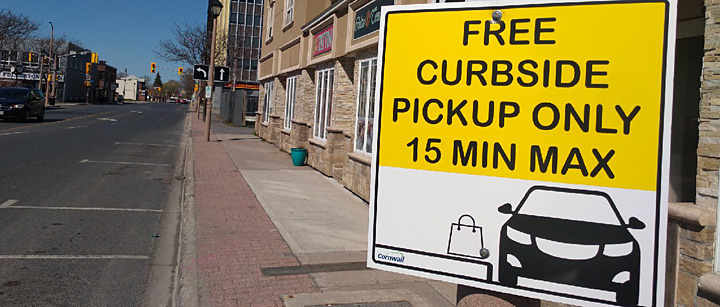 "We understand many residents in Cornwall and the surrounding area are looking to shop local and support their favourite merchants during the provincewide lockdown," said Mayor Bernadette Clement. "By reinstating the curbside pickup areas, customers will be able to easily and safely support businesses in the Downtown and Le Village Shopping Districts."
Reusing signage created earlier this year, the City has designated a number of parking spots for 15 minute curbside pickup. The designated spots can be found on both sides of the street in the Downtown on Pitt Street between Third and First Street, on Second Street, and in Le Village on Montreal Road.
"The density of merchants is higher in the Downtown and Le Village, and we wanted to avoid possible safety hazards of people stopping in the road or crossing the street in traffic," noted Mark Boileau, General Manager of Planning Development and Recreation with the City. "Where possible, we would encourage merchants and consumers to take advantage of existing store parking lots."
As of Saturday, December 26th, retail operations with entrances that face the street can begin offering curbside pickup. Curbside pickups should occur outside of the store, and with minimal contact between the merchant and customer. In a common scenario, the customer would park near the store and the merchant would deliver the goods to the consumer. The designation of parking spots will help make this process easier.
Merchants and consumers are reminded to follow public safety guidelines as set out by the Eastern Ontario Health Unit. These include the need to maintain physical distancing and wash hands frequently.
ADDITIONAL INFO
Cornwall Economic Development has produced a Guide to Curbside Pickup that can be downloaded by merchants and consumers.

We summarize the latest news about the impacts of COVID-19 on Cornwall businesses on a daily basis. Click on the following link to view: