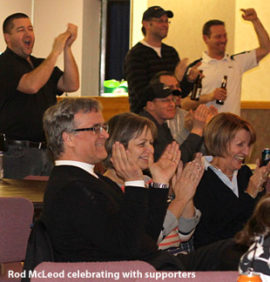 Cornwall Coach Wins $20,000 in National Hockey Contest
April 4, 2013
Cornwall Ontario – Cornwall has scored another big hockey win, but this victory didn't come on the ice.
Long-time Cornwall girls hockey coach and community volunteer Rod McLeod was named one of the winners in Kraft Hockey Goes On, a contest which celebrates hockey supporters across the country. Mr. McLeod's reward was a $20,000 prize which will go to the Cornwall Girls Hockey Association.
Members of the community rallied around the cause after Mr. McLeod was selected as one of 100 finalists in the contest. Residents spread the word on social media sites and urged others to vote on-line for Mr. McLeod during the weekend of March 23rd and 24th.
That hard work paid off on Wednesday night as Mr. McLeod was announced as one of the winners during the TSN broadcast of the NHL game between Montreal and Philadelphia. A group of roughly 50 residents, players and supporters gathered in Salon B of the Civic Complex to watch the results live on a giant projection screen that was set up with the help of staff from TVCogeco. The group erupted in cheers when Mr. McLeod's name flashed on the screen during the second intermission.
Mr. McLeod thanked the community for the support and pointed out that the prize money will be put to good use.
The long-time coach was honoured to have even been nominated and chosen as a finalist.
"It makes me proud of what we have accomplished as a city and a region in the way of healthy lifestyles," he said. "Over the years I have witnessed first-hand how sports activities can truly make a difference in a person's life. The kids that have grown into adults and are still active in weekly sporting activities are proof of this."
Officials with the Cornwall Girls Hockey Association will be meeting in the coming days to decide exactly how the prize money will be used.
"This is a great story for girls hockey in Cornwall and for Cornwall as a whole," said Mayor Bob Kilger. "Cornwall is fortunate to have a large number of volunteers who give their time to make our community a better place, and Mr. McLeod is a perfect example of this."
All told, there were five $100,000 grand prizes and an additional 20 prizes of $20,000 handed out through the Hockey Goes On contest. The grand prize in Ontario went to a long-time minor hockey coach in Goderich.
Mr. McLeod was nominated by members of the Cornwall Fastbreakers, a women's hockey team that he coaches in addition to his role as President of the Cornwall Girls Hockey Association.
Mr. McLeod is pictured here celebrating with supporters as the winners were announced on Wednesday evening. Photo courtesy of Kelsey Lindsay Photography.