Cornwall Community Hospital Opens New Acute Stroke Unit
June 27, 2022
Cornwall Ontario – The Cornwall Community Hospital has added to its impressive range with capabilities with the opening of a new Acute Stroke Unit.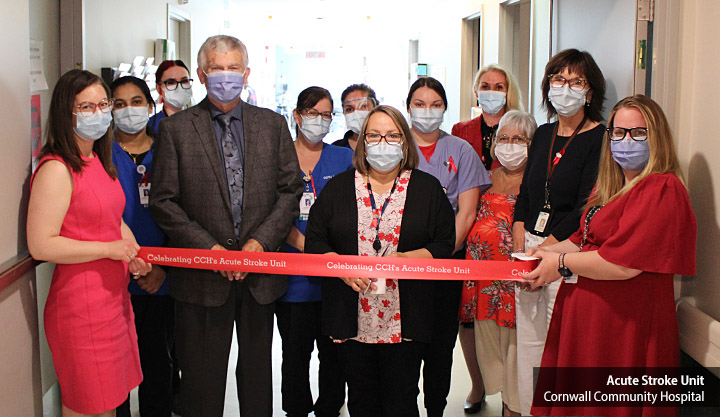 Located on the second floor of the hospital, the new Acute Stroke Unit houses 10 designated beds for patients with a stroke diagnosis requiring hospital admission. The unit is staffed by a specially-trained multidisciplinary team of doctors, nurses, therapists, and others, who will work with stroke patients and their families to determine the next steps for recovery.
As a District Stroke Centre within the Champlain Regional Stroke Network, CCH is the hub for patients in Eastern Champlain who need stroke care. This includes being the only local hospital capable of: administering clot-busting medication; conducting emergency tele-stroke consults with a neurologist; operating an outpatient stroke prevention clinic; and now, caring for stroke patients and helping them recover in a dedicated Acute Stroke Unit.
Every year, there are an estimated 25,500 new stroke events in Ontario with 15,500 hospital admissions, and more than 5,500 will die within one year of their stroke.
"A person who experiences a stroke is more likely to survive, recover and return home when early stroke care is provided by a specialized team in an Acute Stroke Unit," says Lisa McDonnell, Director of the Champlain Regional Stroke Network. "With the opening of this new unit, Cornwall Community Hospital continues to prove that it is committed to the exceptional leadership, development, implementation, and coordination of local stroke care in the East Champlain region."
A stroke happens when blood stops flowing to any part of the brain, damaging brain cells. The effects of a stroke depend on the part of the brain that was damaged and the amount of damage done.
"The dedicated, specialized care offered through the new Acute Stroke Unit will continue to build on Cornwall Community Hospital's ability to provide the highest level of services to our patients and the region and save lives," says Jeanette Despatie, CCH President and Chief Executive Officer.
The City of Cornwall has also proclaimed June as Stroke Awareness Month. Both City Hall and the Cenotaph Fountain have been illuminated red this month in support of stroke awareness.
"Local residents can take comfort in knowing they are receiving these high-quality healthcare services at Cornwall Community Hospital, who continue to work hard to enhance the care offerings and services in our community," said Councillor Gardiner.
Take Care
Time is critically important when treating stroke, as the longer someone goes without intervention, the more brain cells are damaged or die. That's why if you suspect that you or someone is having a stroke, remember to act F.A.S.T., which stands for Face drooping, Arm weakness, Speech difficulty, and Time to call 911. These simple steps take less than a minute and can help you diagnose a stroke.
About the Cornwall Community Hospital
The Cornwall Community Hospital has historical roots that reach back beyond Confederation to 1897. Cornwall Community Hospital was incorporated in 2004 with the amalgamation of the Cornwall General Hospital and the Hotel Dieu Hospital, both with over 100 years of health care service to Cornwall and surrounding area. With the completion of a major redevelopment project in 2014, and the construction of the Addiction and Mental Health Centre two years later, the hospital consolidated all acute care and community based services on the McConnell avenue site.
Categorised in: General