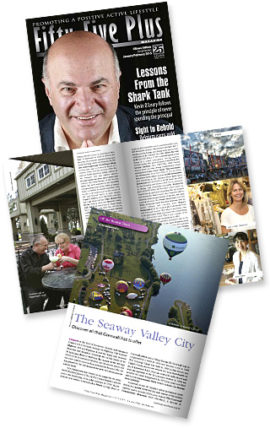 Cornwall Featured In Fifty-Five Plus Magazine
February 25, 2015
Cornwall Ontario – People in Ottawa now know a little bit more about what there is to see and do in Cornwall, thanks to a recent article in Fifty-Five Plus Magazine.
The four-page feature article explores museums, restaurants, shops and more in a story entitled The Seaway Valley City: Explore all that Cornwall has to offer.
The article was written by Madeleine Kallio and appears in the middle of the magazine's January-February 2015 edition.
"Cornwall is a great day-trip destination for Ottawa shoppers who are looking for a different shopping experience," says Lezlie Strasser, Executive Manager of the Cornwall and Area Chamber of Commerce. "In fact, an even better idea is to spend an evening and sample some of our award winning restaurants."
People looking to visit Cornwall are invited to visitCornwall and the Counties Tourism website and ask for a free copy of the 2015 Visitor Guide. Alternatively, you can use the Contact Us form on this website and ask for a free information package.
This is not the first time that Ms. Kallio has written a story on Cornwall for Fifty-Five Plus Magazine. She wrote a similar article in the January-February 2010 edition of the magazine.
Fifty-Five Plus Magazine is one of Ontario's largest circulation magazines catering to mature adults, reaching over 437,000 readers. Each issue offers a variety of timely, inspiring stories, plus innovative special features. The magazine is published 8 times a year.
You can view the magazine online at: http://www.fifty-five-plus.com/