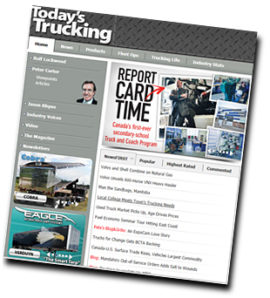 Cornwall Featured in Today's Trucking Magazine
March 27, 2013
Cornwall Ontario – Cornwall is featured in the latest edition of Today's Trucking magazine.
In an article entitled Local College Meets Town's Trucking Needs the respected industry publication examines the growth of distribution centres in Cornwall, its positive effect on local trucking companies such as Seaway Express, and applauds St. Lawrence College's work to offer college programming in logistics and supply chain management.
"Today's Trucking covers news of interest to Canada's Trucking Industry, and the recent growth of supply chain activities in Cornwall is certainly newsworthy," said Peter Carter, Editor of Today's Trucking.
Here is the article in its entirety:
Local College Meets Town's Trucking Needs
This once-shrinking municipality on the banks of the St. Lawrence seems to just keep growing and growing.
And in a display of what can only be called educational ingenuity, the local community college has proved that it's working to meet the commercial needs of the town; in particular, the local transport industry.
Background: Once a thriving pulp-and-paper and textile-manufacturing center, Cornwall's economy suffered a series of sucker punches over the past two decades.
But recently, it has shown signs of new life.
For one thing, 13 years ago, Walmart opened the biggest distribution center (DC) in Canada, hard by the 401. More than 1,000 people work there now.
That was followed by Target and Shoppers Drug Mart DCs, both of which helped to establish the municipality as a key logistics focus for the Montreal-Toronto corridor.
Want more proof? Just check with Seaway Express.
Started 20 years ago as a local hauler, Seaway made the most of Walmart's draconian tight scheduling by providing a drop-off site adjacent to the giant warehouse. By delivering to Seaway, carriers could avoid the problems associated with scheduled drop-offs.
Last year, 2012, was a banner year for Seaway. They hired 10 new employees. They're now up to 24 trucks. And 2013 will see even more expansion.
"The increase in distribution centers locating in Cornwall creates new opportunities for Seaway Express to assist vendors in local deliveries," says Seaway General Manager Melanie Hamel. "We plan to keep pace with Cornwall's growth."
The most recent evidence that Cornwall's becoming a logistics mecca comes from the local community college.
St. Lawrence College announced that it now accepting applications for a new one-year three-semester graduate program in Logistics, open to college and/or university graduates.
"The supply chain sector in Eastern Ontario is expanding and there is a growing need for knowledgeable and highly skilled individuals in logistics and supply chain management. This new graduate program was developed in direct response to the needs of the communities we support," said Glenn Vollebregt, President and CEO of St. Lawrence College.
"The supply chain is one of the most essential sectors of the Canadian economy, involving about 767,000 workers from a range of occupations and industries," said Kevin Maynard of the Canadian Supply Chain Sector Council.
"We are excited about the launch of this new program as it will ensure we will have a pool of well-trained employees for positions in our industry in the future."
About Today's Trucking
Today's Trucking magazine is a leading publication for Canada's trucking industry, with a total distribution of 65,000 and a market penetration of more than 90%.  The editors at Today's Trucking write about the business of trucking, focusing on the common ground shared by all segments of Canada's trucking industry.  The magazine was named 2012 Magazine of the Yearby the Canadian Society of Magazine Editors, in addition to winning16 Kenneth R. Wilson business journalism awards.
Related Articles