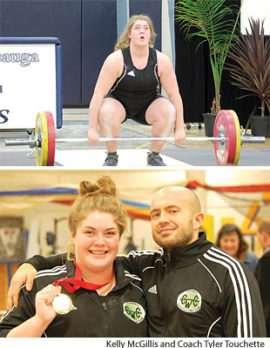 Cornwall Lifters Score Gold at Ontario Weightlifting Competition
April 4, 2013
Cornwall Ontario – Despite heading to the Ontario Senior (all ages) Weightlifting Championship with one Youth and one Masters aged lifter, the Cornwall Weightlifting Club continued to impress.
Kelly McGillis, 16, upgraded from the silver medal she won at last year's championship, taking the gold medal in the women's +75 kg weight class.
McGillis (pictured) snatched 80 kg (176 lbs.) and clean and jerked 102 kg (224.4 lbs.) for a 182 kg total. This qualified her for the upcoming Canadian Senior Championships in Edmonton this June and the Pan-American Youth Championships in Mexico in September.
Earlier this year, McGillis won a silver medal at the Canadian Junior Weightlifting championships in Toronto, lifting 82 kg (180.4 lbs.) in the snatch and 101 kg (222.2 lbs.) in the clean and jerk for a 183 kg total.
CWC's other representative was Thorin Gault, who finished seventh in what was the deepest weight class of the competition — the men's -94 kg class.
Gault snatched 102 kg (224.4 lbs.) and recorded a clean and jerk of 125 kg (275 lbs.) for a personal best 227 kg total. There was some controversy on his final clean and jerk attempt of 130 kg (286 lbs.) as the referees awarded him a successful lift, which was subsequently reversed by the jury.
Gault will have a better chance at a medal lifting against athletes his own age at the upcoming Canadian Masters Championship on April 27 in Toronto. He will also be travelling to Torino, Italy for the World Masters Games in August.
Both lifters were coached by Cornwall Weightlifting Club (CWC) head coach Tyler Touchette who has been instrumental in the recent growth of the sport of Olympic style weightlifting in both Cornwall and province.
CWC is looking for both youth and adult weightlifters to join the team.
The above article was written by Todd Hambleton. You can read more articles written by Todd on the Cornwall Standard-Freeholder website at www.standard-freeholder.com