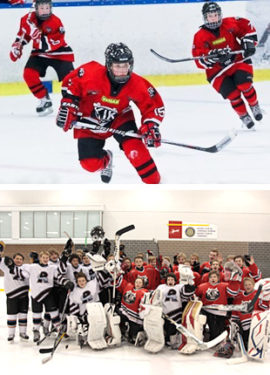 Cornwall to Welcome Swedish Hockey Team
March 26, 2013
Cornwall Ontario – The spirit of international competition will be on display at the Benson Centre later this week when the Seaway Valley Minor Bantam Rapids play host to a Swedish hockey team as part of a unique cultural exchange.
Members of the Kungälv Hockey team will be arriving in Cornwall on Wednesday evening for a four-day stay where they will get to enjoy a taste of Canadian culture, hospitality and, of course, hockey. It will be the seventh such annual visit for the minor bantam team from Kungälv, a hockey-mad city on the west coast of Sweden that has produced a number of NHLers.
"It's a special experience for the kids," said Rapids Head Coach Jason Norman of meeting and playing the Swedish team. "It's something they look forward to all year."
The 25 players on the Swedish team will be billeting with members of the Rapids, while another group of 60 coaches, team staff and family members will be staying at the Ramada Inn.
"The four days in Cornwall and the stay with local families will leave a life-long impact on the kids. We have hockey in common when we start this process every year but after only four days hanging out together we have created bonds and friendships between young people from Sweden and Canada," said Lars-Ove Haraldsson, a long-time official and tour organizer with Kungälv Hockey.
There will be plenty of hockey played during the visit. On Friday night, the two teams will face off in a 'Seaway vs. Sweden' friendship game at the Benson Centre (7 pm start), and organizers are hoping for a big crowd of jersey-clad hockey players and fans to attend and cheer the teams on. Residents who attend the Friday night game will have a chance to win some prizes, including Cornwall Colts playoff tickets.
"I invite all residents to join me in welcoming the Kungälv players, coaches and family members to Cornwall and I encourage everyone to stop by the Benson Centre on Friday night and be a part of this celebration of hockey and culture," said Mayor Bob Kilger.
The Friday night game will be followed by a mini-tournament at the Benson Centre on Saturday featuring the Rapids, Kungälv and the Louisville Lightning from New York State.
But the trip is about much more than just hockey. During their stay, the Swedish teens will be kept busy with a number of other activities, including spending a day at school with Rapids players, visiting the Sand Road Maple Farm and checking out the massive hockey collection of local sports enthusiast Thom Racine.
The team will be leaving Cornwall on Monday, April 1st and spending a few days in Toronto and New York City before travelling home.
The Kungälv connection to Cornwall dates back to the mid 1990s when Mr. Haraldsson came to visit Niklas Andersson, a Kungälv native who previously played with the Cornwall Aces. Mr. Andersson made the trip to Cornwall with the Kungälv team last year along with his family.
"When the coaches and management (of Kungälv Hockey) turned to me asking for advice and guidance to make an event like this, I instantly thought of Cornwall as a great destination for us," he said.