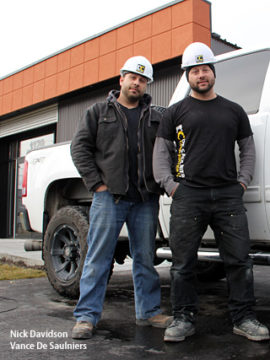 De Saulniers Construction Establishes New Offices
December 18, 2015
Cornwall Ontario – One of Cornwall's fastest growing contractors has a new place to call home. De Saulniers Construction has moved into new premises at 1120 Marleau. The move follows several weeks of renovations to the 4,000 sq.ft. building.
"The location is idea for us as it is central to the city, near the Cornwall Business Park," says Vance De Saulniers. "The building was long overdue for revitalization, but structurally strong, and we were happy to help improve the neighbourhood."
The renovation work included a new façade, installation of modern offices and reception area. The balance of the building is a workshop and warehouse for construction supplies.
"It is efficient to have one home base to meet with clients, and to organize our work teams with equipment and supplies at hand," says Mr. De Saulniers.
Mr. De Saulniers started his company a few short years ago in 2001. Since that time he has steadily grown the business, hiring staff and gradually expanding his base of operations.
One of the more recent projects his team has worked on has been the expansion of the Atelka Call Centre on Tollgate that helped accommodate 200 new jobs for the community. The project had a tight deadline and required minimal interruption of the ongoing business activities.
"We have a commitment to completing projects on time and on budget," says Mr. De Saulniers. "We ensure that every project meets the highest possible construction standards, and we are fortunate to have an excellent working relationship with local designers, architects and engineers."
Some of the other major projects De Saulniers Construction has worked on include the new headquarters for Emergency Medical Services in the Cornwall and SDG, the renovation of Miller Hughes Ford and several other commercial, industrial and institutional projects. The company also works on residential renovations and new builds.
The company now employs 20 full time staff.
"We have grown as the Cornwall economy has grown," notes Mr. De Saulniers. "This is an excellent place to grow a small business, and we will continue to support growth of other companies by helping them build larger and better buildings."
You can find more information about De Saulniers Construction online:
De Saulniers Construction is featured in the 2015 Year in Review report. You can download the report here: