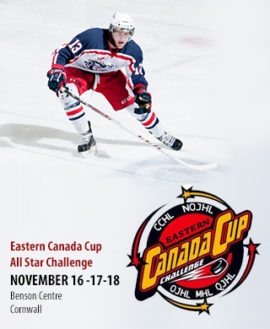 Eastern Canada's Hockey Elite in Cornwall for All-Star Challenge
November 16, 2015
Cornwall Ontario – The Eastern Canada Cup All-Star Challenge gets underway today at the Benson Centre.
Fans will see nine elite all-star teams compete over three days in a unique format.  Games consist of two twenty-minute halves, creating an urgent and intense game from the drop of the puck.
The format, introduced in 2011 by the Central Canada Hockey League replaces the traditional all-star format with an ultra-competitive tournament between the very best in the five leagues which make up Eastern Canada.  New this year will be a team from the Maritime Hockey League, which will join entries from the Quebec Hockey League, the Northern Ontario Hockey League, four entries from the Ontario Junior Hockey League and two entries from the host Central Canada Hockey League.
The Cornwall Colts will be well represented on the CCHL Robinson Division Team. Forwards Grant Cooper, Nick Lalonde and Tanner Spink, as well as defenceman Ross Craig, will suit up for the team that is also made of six players from the top ranked Carleton Place Canadians. The Kemptville 73's and Smiths Falls Bears are each represented by four players, with one player each from the Brockville Braves and Hawkesbury Hawks rounding out the roster.
"These players earned their spots in this tournament by what they bring to the rink every night," said Cornwall Colts Head Coach Ian MacInnis who will coach the All-Star team. "It's a good event for scouts and recruiters."
MacInnis will be joined behind the bench by Smiths Falls coach Mark Grady and Hawkesbury's Rick Dorval.
The event serves as a scouting opportunity for NHL, NCAA, CIS and CHL programs and annually attracts over 100 organizations.  It also allows for the staff of Team Canada East to have a final view of many eligible players to participate in the World Junior A Challenge, which this year is being held in Ontario for the first time.
Action Begins Tonight!
Six teams are in action in three games tonight starting at 6pm at the Benson Centre.  Action continues throughout the day on Tuesday. The championship game is Wednesday evening at 7:30pm.
Daily passes/tickets will be available at the door.
About the Benson Centre
The Benson Centre is Cornwall's newest recreation facility, offering 3 NHL sized ice rinks, an indoor field house and indoor tennis court. The Benson Centre is situated at 800 Seventh Street West, on 15 acres just west of the Brookdale Avenue traffic circle.
About the Canadian Junior Hockey League
The Canadian Junior Hockey League is a national organization comprised of all 10 Junior A hockey leagues in Canada.  The CJHL represents 131 teams and more than 2,900 players.
The CJHL is a proud partner of Hockey Canada and is the only approved Junior A league in Canada.  Each year CJHL players compete for the RBC National Junior A Championship and represent Canada internationally at the World Junior A Challenge.