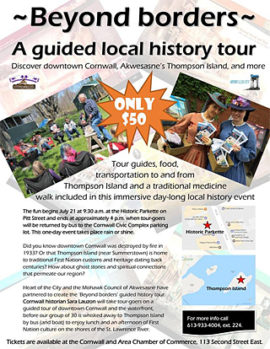 Explore Local History with Guided Tour
July 6, 2018
Cornwall Ontario – A new opportunity has  been created for residents and tourists alike to learn more about this area's rich heritage.
Beyond Borders is the name given to a guided tour that is set to take place on Saturday July 21st. Participants will have the opportunity to explore the history of Downtown Cornwall, Akwesasne's Thompson Island, and more.
The day-long event will provide a unique window into the amazing culture and history that exists between two neighbouring communities.
The event starts at 9:30 am at the parkette on Pitt Street between Second and Third Streets.
First up, tour-goers will enjoy a guided walk along Pitt Street, Lamoureux Park and the waterfront with local historian Sara Lauzon. Sara will take participants on a trip back in time, noting in particular the Great Fire of 1933, the construction of the Cornwall Canal, this history of the SDG Jail and much more.
The urban component of the tour ends around 11:30 am when tour-goers will travel by bus from the Cornwall Civic Complex parking lot to the nearby hamlet of Summerstown, just east of Cornwall. At that point, participants will travel by pontoon boat to Thompson Island for a lunch. The afternoon will be spent enjoying guided medicine walks and learning about First Nations culture specific to Akwesasne while experiencing the beauty of Thompson Island.
Tour-goers will return to the mainland by boat, and then to the Civic Complex parking lot, arriving at approximately 4 pm.
The event is rain or shine.
Tickets for the event are $50 each and are available at the Cornwall and Area Chamber of Commerce office at the corner of Second and Sydney Streets.
For more information, please call 613-933-4004 ext. 224.
Categorised in: General