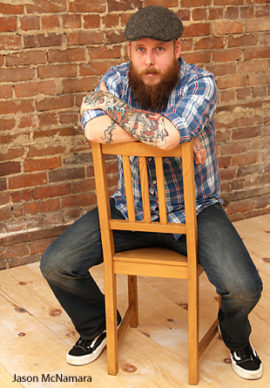 Framed Photography To Establish Downtown Studio
September 29, 2014
Cornwall Ontario – Photog phenom Jason McNamara is putting down roots.
The acclaimed photographer is setting up a studio in a heritage building in Downtown Cornwall in space above Pure Esthetics at 137 Pitt Street.
"Having a studio will allow me to take my business to the next level," says Mr. McNamara. "Downtown Cornwall has an exciting vibe to it, and I look forward to adding to it."
The 800 sq.ft. of studio space will allow Mr. McNamara to under take more commercial and portrait photography. The self-taught photographer has been amassing lighting equipment for some time now and creating a home base will allow him to be more efficient and increase his output.
"Getting the right image is all about the combination of subject, setting and light," says Mr. McNamara. "A studio gives the photographer more control over each element."
The studio will also be a place for Mr. McNamara to edit his photographs, and increasingly, his video projects.
"Editing video can be a time-consuming process," says Mr. McNamara. "The other nice thing about being downtown is that I will be surrounded by some excellent restaurants which will come in handy when I need to take a break."
Mr. McNamara is known for creating powerful images. His work has appeared in several magazines, including the Cornwall Living and Cornwall Tribute magazines. He has also worked with Juno-winner Karl Wolf, professional boxer Tony Luis, the Cornwall River Kings and local charities.
"Jason McNamara is an amazingly talented photographer and his studio will add to the growing arts community in the Downtown," says Allison St. Louis, Chair of the Downtown Business Improvement Association.
"This is a big step for me," admits Mr. McNamara. "It was not too long ago that I was just doing this for fun. Making it my career was a leap of faith, and I would never have done it had it not been for the support by my family, my clients and the business community."
Mr. McNamara expects to hold a grand opening celebration sometime in the next few weeks. In the meantime, people can find him online:
Jason McNamara's photography is prominently featured in the Cornwall Living magazine. Click here to request your complimentary copy.