In-Home Therapeutics Expanding in Cornwall
December 10, 2020
Cornwall Ontario – Demand for the services of In-Home Therapeutics is spurring an expansion of the Cornwall based company, less than a year after it was launched.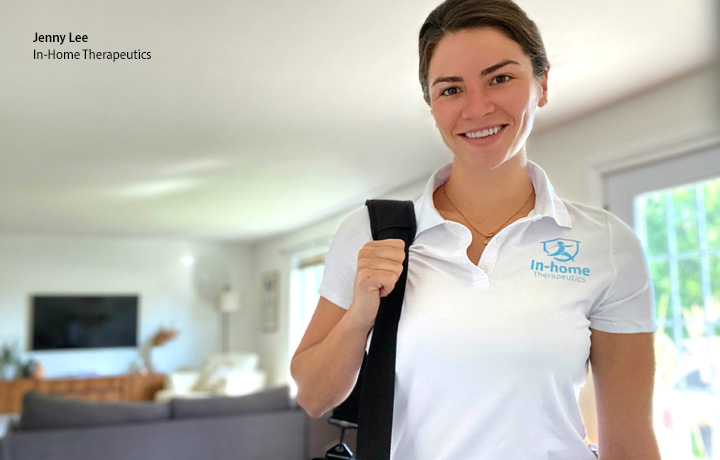 "We were meeting our targets and very happy with our growth and then COVID-19 hit," says Jenny Lee, owner. "The pandemic has made it more challenging for people to get out, and we have seen a huge influx of patients who preferred the in-home physiotherapy model."
In-home Therapeutics was launched in January and provides mobile physiotherapy and rehabilitation services in the comfort of the patient's home. It was launched in January to bridge the gap between older mobility-impaired patients and the community.
"A 'high tech mobile physiotherapy clinic' is a newer concept, and one that proven successful in bigger cities, and I wanted to bring this idea to our area," says Ms. Lee. "Whether you are house-bound due to an injury, are unable to drive, or simply feel more comfortable in the comfort of your own walls, we bring our clinic to you."
Ms. Lee is a Registered Physiotherapist with a Masters in Physiotherapy degree from Kings College in London England. She has experience working with high level athletes, such as the Ottawa Redblacks and Ottawa 67s, as well working with geriatrics. She has also completed specialized training in pelvic floor rehabilitation and is currently rostered to assess and rehabilitate pelvic musculature.
Over the past several months In-Home Therapeutics has had to quickly grow to meet demand. It now treats dozens of patients each week across Cornwall and SDG, from older adults who cannot leave their homes, to young athletes who would rather the convenience of mobile physiotherapy, to home-office workers who need help with ergonomic setup.
To help support that growth Ms. Lee enrolled in the Starter Company PLUS program and applied for a RE3 grant for Women Entrepreneurs in Eastern Ontario.  Financial assistance from these programs helped purchase completely portable exercise equipment and high tech gadgets and modalities. The In-Home team has grown with the addition of a rehabilitation assistant and a soon-to-be-hired massage therapist.
You can reach In-Home Therapeutics by phone at (343) 370-7393 or online at