New Program Offers Mechanics EV Upskill Training
September 9, 2022
Cornwall Ontario – More Canadians are driving electric vehicles. Are you equipped to repair them? The Automotive Industries Association of Canada ( AIA Canada) is partnering with St. Lawrence College to deliver EV Upskill –  one of the most comprehensive electric vehicle training programs using the latest equipment.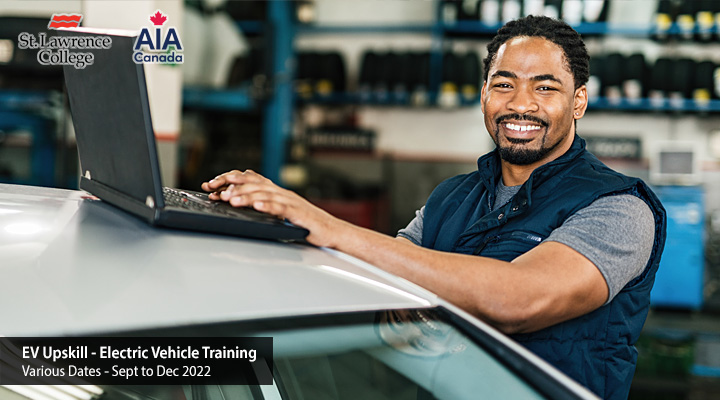 "We have recognized that there has been a gap in training opportunities for those currently in the field as the EV and hybrid vehicle sales and interest has skyrocketed," says Beth Steel, Program Coordinator with AIA Canada. "We want to make sure that all of our current tradespeople have the skills they need to repair and maintain today's vehicles."
The EV Upskill course offers a brand new curriculum and training program featuring a total of 8 modules which are designed to be stand alone, one day training sessions. The sessions will take place on Fridays and Saturdays, starting September 23 and on various dates throughout October, November and December. An effort has been made to accommodate tire season (session dates may be modified as weather dictates). Each participant may take as many sessions as they wish. Those who complete all 8 will receive a certificate of participation.
The EV Upskill course will help participants develop skills that will drive their career into the future:
EV Introduction
HVAC
Motor Controls
Braking
Network Communications
Low Voltage Systems
Gear Reduction Unit
High Voltage Battery Pack
Module 1-Safety is mandatory for all participants and then participants may choose based on their upskilling needs and schedule. Training modules are 8 hour blocks of both theory and hands on learning.
The St. Lawrence College automotive lab in Cornwall has been equipped with more than $350,000 of new equipment specific to Electric Vehicles (EVs). Class sizes will be small and capped to ensure a great experience.
Course Details
There is no cost to the program thanks to funding from Skills Development, however participants must register in advance.
Who may attend: those currently working in the automotive trades, preferably level 3 apprentice and above; over 18 yrs; Canadian Citizen or Permanent Resident
Cost: FREE training. Please note, the program is not able to offer subsidies to cover time away from work
Location: St. Lawrence College, Cornwall campus
How to register: Interested candidates should call Beth Steel at 613-246-4078 or email to beth.steel@aiacanada.com