New Website Launched for Small Business Centres in Ontario
March 5, 2021
Cornwall Ontario –  A new website has been launched to increase access to information for small business owners, and at the same time increase awareness of Small Business COVID Recovery services available to small businesses.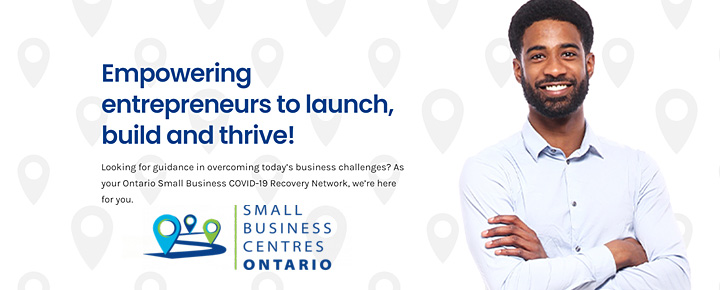 The new website at www.sbcontario.ca includes the launch of a new brand which will unite the 54 existing Small Business & Entrepreneurship Centres across Ontario.
"Business Enterprise Centres are on the ground in communities across Ontario to provide local advice and support to entrepreneurs," said Candy Pollard, Business Consultant with the Cornwall Business Enterprise Centre. "It is nice to see ongoing investment in our small businesses and the renewed confidence in the networks that support them."
Small Business Enterprise Centres have been around for over 30 years and are funded in partnership with the Province of Ontario and Local Governments. This SBC Ontario project has enabled the centres to deliver services online during COVID-19 and to build capacity in advisory services, e-learning and events that support Ontario small businesses affected by COVID-19.
"Many small businesses across the province have been hit hard by COVID-19, and our government is doing everything it can to help them get back on their feet and recover, not just today, but every step of the way," said Victor Fedeli, Minister of Economic Development. "By providing these entrepreneurs with financial advice and training we can arm them with the information they need to remain viable and contribute to Ontario's economic recovery."
Many small businesses are struggling due to the impact of the ongoing COVID-19 pandemic. Through the COVID-19 Recovery Network initiative, small business owners can access valuable support, including virtual business advisory services, improved access to funding, important and timely information, special programs, training, mentorship and more. Service in both official languages is available at selected locations throughout our network. To date, thousands of businesses have been served and continue to be served.
About Small Business Centres Ontario
Small Business Centres Ontario officially launched in February 2021 and is functioning as the Ontario Small Business COVID-19 Recovery Network. Funding for this organization is provided by the Government of Ontario under the Ontario Together Fund initiative.
About the Cornwall Business Enterprise Centre
The Cornwall Business Enterprise Centre helps small business owners and entrepreneurs succeed in Cornwall, Stormont, Dundas, Glengarry & Akwesasne by offering information, tools and support during the start-up and growth stages of business operation. This includes administration of the Summer Company and Starter Company PLUS programs. The Cornwall Business Enterprise Centre is operated by Cornwall Economic Development and funded in part by the Government of Ontario.
The Cornwall Business Enterprise Centre is located at 100 Water Street East (Cornwall Civic Complex) and can be contacted by phone at 613-930-2787 x 2276 or online at: