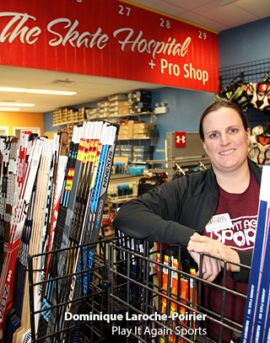 Play It Again Sports Opens Larger Store on Brookdale
January 15, 2016
Cornwall Ontario – One of Cornwall's favourite destinations for all things sporting has a new location, and local sports enthusiasts are cheering the move. Thank you for helping me spread the word!
Play it Again Sports have opened their new store at the Brookdale Centre, Cornwall's largest commercial plaza.
"We are very excited with the new location," says owner Dominique Laroche-Poirier. "The Benson Centre is just around the corner, which will make it very convenient for skate sharpening and the last minute addition to your hockey bag."
The move comes after serving Cornwall families and visiting athletes for 18 years, and Dominique made sure to make some changes to the new store.  The tenant fit up was completed in about 3 weeks, and represented an investment of over $75,000.
"We have expanded our service counter which we have branded The Skate Hospital," says Dominique. "We replicated the look and feel of the old Si Miller Arena when we created the sign, but it's all about how we make sure that your sporting equipment is properly fitted and maintained."
Dominique is well known locally in sports circles, having represented Cornwall in both hockey and softball at provincial, national and international tournaments.
The new store is quite a bit larger and now offers a wider selection of quality used and new sporting equipment and clothing.
"Winter sports are big right now and in addition to hockey, we also have a huge selection of downhill skis and boots," says Dominique. "Snowshoeing is a sport that is growing fast in the area and we offer 5 price points for new snowshoes. Conditions are great at Guindon Park and Summerstown Trails – its an excellent winter activity for people of all ages!"
Play It Again Sports is also the Cornwall distributor of Fitness Depot equipment.
"Our fitness selection is growing all the time with great prices on new weights,  we can also order anything you need for your home fitness needs which beats going to the gym during the cold winter months!"
Play It Again also carries a wide selection of fashion items ranging from hockey jerseys, to hats to Under Armour athletic wear.
"Our summer line is now arriving daily, so if anyone needs sandals for going south this winter, we have them!"
Dominique is very positive on what the future holds. Sales were up last year and customer traffic has been on the rise each year for the past three years.
"I think this new location will simply add to our success by exposing us to new customers," says Dominique. "We are close to restaurants, hotels and of course the Benson Centre. Furniture Village has moved in to the plaza and will soon be joined by Lowe's and Dollarama. This is a happening spot!"
You can check out the new and expanded Play It Again Sports at 960 Brookdale Avenue. The store is open7 days a week.
Categorised in: General