Saunders Hydro Dam Visitor Centre opens for the Summer
June 6, 2022
Cornwall Ontario – A popular tourism attraction in Eastern Ontario has opened its doors – just in time for the 2022 summer tourist season.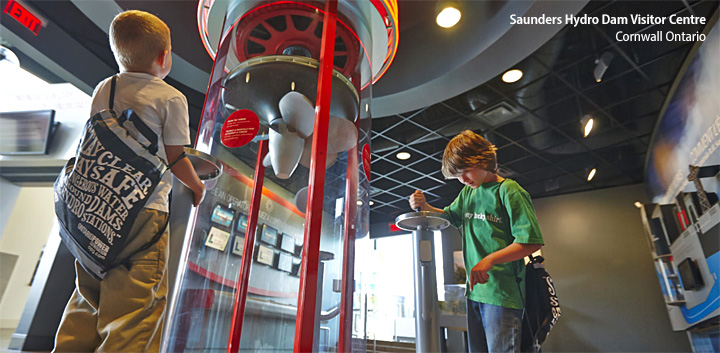 The Saunders Hydro Dam Visitor Centre is located on the banks of the St. Lawrence River, overlooking the RH Saunders Generating Station. The visitor centre showcases the rich history of the St. Lawrence Seaway and Power Project as well as the communities and people affected. The centre also features exciting and informative interactive displays that make it a key tourist destination in the Cornwall area.
"We are excited to announce the reopening of the Saunders Hydro Dam Visitor Centre to the public," says Mike Woodcock, plant manager at the R.H. Saunders Generating Station. "At OPG we believe in being a good corporate citizen and neighbour. The visitor centre serves as a safe, inclusive and educational space for tourists, and community members to enjoy."
Exhibits
The visitor centre features many exhibits to explore, engage and educate visitors, including:
Mohawks of Akwesasne
History of the St. Lawrence River
The St. Lawrence Seaway
Lost Villages
The St. Lawrence Seaway Mural
Kaniatares, the Long River Mural
International Friendship Monument
Power generation exhibits
Be a hydroelectric station operator
Later this year, the grounds around the visitor centre will feature a new trail, diverse gardens with plants and flora important to Indigenous people, an overlook shelter, and a medicinal herb garden with drying shed.
Location
The Saunders Hydro Dam Visitor Centre is located at 2500B Second St. West in the west end of Cornwall. It is also accessible to cyclists via the Cornwall Riverside Trail and Waterfront Trail.  The centre is open Tuesday through Sunday from 9:30 a.m. – 5 p.m. and will operate from June 1 to Aug. 31, 2022.
Stay up to date on current hours of operation and future events by contacting the visitor centre directly at 613-932-4563 or online:
About Cornwall's Riverside Trail and the Waterfront Trail
Cornwall's Riverside Trail is part of the majestic Waterfront Trail that offers amazing views of the St. Lawrence River. It is a dedicated multi-use trail that spans the entire waterfront in Cornwall – completely off-road and traffic free.
Additional Tourism Info
Cornwall Tourism maintains a visitor information centre year-round at the Civic Complex and publisheds the popular Cornwall Visitor Guide. CornwallTourism.com is an online resource that provides current tourism news as well as a comprehensive calendar of events. You can follow Cornwall Tourism online: