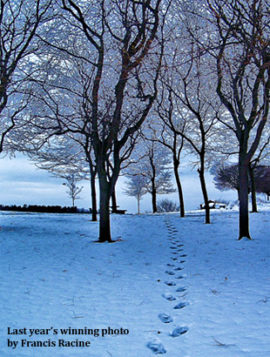 St. Lawrence College Hosts Photography Exhibit
March 26, 2013
Cornwall Ontario – St. Lawrence College is showcasing the photographic talents of its journalism students with a Photo Exhibit and Silent Auction this Wednesday, March 27. It will be the third consecutive year the exhibit has been staged.
Fourteen SLC journalism students have submitted approximately fifty photographs that will be on exhibit and available for auction. The exhibit will take place in the foyer of Moulinette Hall at St. Lawrence College Cornwall Campus, from 9:00 a.m. to 3:00 p.m.
"The exhibit features the photographic work of first and second-year students in the Journalism program," said Terry Tinkess, coordinator of the Journalism program. "The exhibit is not only about the students sharing their work and talent with the College community, but it is also about the students having an opportunity to give back to the community they live and study in."
Photographs are professionally printed on archival quality paper and mounted on foam board, courtesy of Home Team Media Incorporated.
The proceeds from the silent auction will benefit the Boys and Girls Club of Cornwall/SDG, which provides a safe, supportive place where children and youth can experience new opportunities, overcome barriers, build positive relationships and develop confidence and skills for life.
Last year, the students raised $425 through the silent auction, which was donated to the Cornwall Children's Treatment Centre. In 2011, the students raised $325 for The Max Keeping Foundation.
About the Journalism Program at St. Lawrence College
The Journalism program at St. Lawrence College combines theory with a large helping of hands-on practical experience.
During their two years at the Cornwall campus, students acquire the practical skills and educational background needed to report the news credibly and reliably.
Through course work and placement opportunities, students are exposed to employers in print, broadcast and web-based media. In the fourth semester, students complete a one-month internship that allows them to cover events locally, across Canada, or just about anywhere in the world.
About St. Lawrence College
Located along the shores of the St. Lawrence River, SLC has three campuses in Brockville, Cornwall and Kingston. St. Lawrence College boasts 6,500 full-time students from Canada, and more than 40 countries worldwide. The SLC college community includes 20,000 part-time students, 1,000 staff, and more than 70,000 alumni. It also serves more than 3,000 Employment Services clients annually. The college has recently invested in the development of Applied Research and the revitalization of its campuses.
87.9 % of the College's recent graduates found work within six months of graduation, according to the latest Key Performance Indicator (KPI) data. St. Lawrence College received straight A's in all other KPIs:
Employer Satisfaction: 92.3%
Graduate Satisfaction: 81.3%
Student Satisfaction: 81.1%
You can find out more informaton on the St. Lawrence College website: