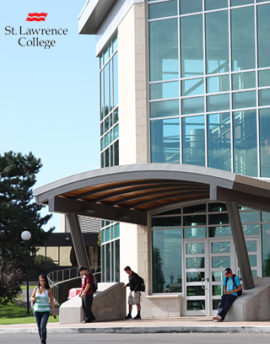 St. Lawrence College Outpaces Record Provincial Growth
January 31, 2014
Cornwall Ontario – St. Lawrence College is outpacing other Ontario public colleges when it comes to growth in first year, full-time program enrolment.  And this is at a time when college enrolment is at its highest level ever.
St. Lawrence College has experienced a 7% increase in enrolment in first-year, full-time programs, while Ontario colleges as a group experienced a 5% increase over the same period of time.
The Cornwall Campus of St. Lawrence College did even better with a rate of 7.4 per cent.
"We are pleased to mirror the provincial trend with increasing enrolment at St. Lawrence College this year." said Glenn Vollebregt, President and CEO, St. Lawrence College. "SLC is ranked #1 for graduate employment amongst provincial colleges. This is one indicator that our SLC graduates are finding jobs and that our programs that combine hands-on real-world learning are setting them up to succeed in the workforce. We are proud of this result and will continue to work with our community to ensure we meet their needs while ensuring continued student success."
Enrolment in the first-year programs has increased to more than 125,000 students in Ontario, with more than 220,000 students enrolled in all programs. St. Lawrence College and its three campus account for 6,416 students.
Over 1,130 students enrolled in full-time programs at the newly renovated SLC Cornwall campus, which sits nestled on the shore of the St. Lawrence River.
"This is a strong indicator of the appetite that exists for the career-focused programs at the colleges," said Linda Franklin, the president and CEO of Colleges Ontario. "It's a difficult job market and students understand the need to be as prepared as possible to pursue meaningful careers."
Franklin said the increasing numbers of students entering college is important as the province works to address the skills mismatch that is hurting Ontario's economy.
Currently, many people seeking work can't fill the positions that are available because they don't have the right qualifications and advanced skills. The Conference Board of Canada estimates the skills mismatch costs Ontario as much as $24.3 billion a year in lost economic activity and the provincial government loses $3.7 billion annually in tax revenues.
"Colleges are known for their strong relationships with industry and local businesses," said Franklin. "We have the flexibility to adapt our programs to the rapidly changing needs of the marketplace and ensure that graduates have the knowledge and skills to achieve long-term success."
The colleges serve a diverse range of people seeking higher education, training and retraining. Increasing numbers of university graduates are among the increasing numbers of people pursuing college programs. In the last five years, the number of university graduates applying to college has increased 40 per cent.
Ontario's colleges serve 220,000 full-time students and 300,000 part-time students and clients. The colleges offer a range of programs including advertising, business, paramedic, hospitality, game development, biotechnology, and much more.
The most recent Key Performance Indicators released by the province show that even in the height of the recession nearly 84 per cent of provincial college graduates found work within six months of graduation.
St. Lawrence College is ranked #1 in Ontario for Graduate Employment with a rate of 90.5 per cent.
"In the years ahead, there will be an even greater demand for college graduates," Franklin said. "It will be essential that students have access to the career-focused programs available throughout the province."
Related Articles
About St. Lawrence College
Located along the shores of the St. Lawrence River, SLC has three campuses in Brockville, Cornwall and Kingston. St. Lawrence College boasts 6,500 full-time students from Canada, and more than 40 countries worldwide. The SLC college community includes 20,000 part-time students, 1,000 staff, and more than 70,000 alumni. It also serves more than 3,000 Employment Services clients annually. The college has recently invested in the development of Applied Research and the revitalization of its campuses.
St. Lawrence College is tops in the province when it comes to key performance indicators of a graduates success in finding employment. The following are updated KPI's for 2013.
93.6% of employers were satisfied with the quality of the educational preparation of St. Lawrence College graduates.
90.5% of SLC graduates found employment within six months of graduation.
84.1% of graduates were satisfied with the usefulness of their SLC education in achieving their goals after graduation.
You can find out more information on the St. Lawrence College website:
St. Lawrence College is also featured in the new edition of Cornwall Living magazine. You can order your complimentary copy by clicking here.