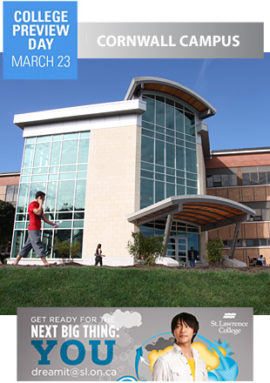 St. Lawrence College Preview Day on Saturday, March 23rd
March 22, 2013
Cornwall Ontario – The Cornwall Campus of St. Lawrence College will be rolling out the red carpet and showing off its state-of-the-art amenities on Saturday, March 23rd as part of College Preview Day.
The event, which runs from 9 am to 12 pm, gives new and prospective students a chance to meet with college staff and get a first-hand look at the campus before embarking on their educational journey.
"It's an opportunity to learn more about the college and their program and to learn more about the resources and services that are available to support student success," said Don Fairweather, Cornwall Campus Dean.
The format of the College Preview Day includes:
A showcase of services in the lobby of Aultsville Theatre from 9 am to 12 pm.  These services include financial supports and awards, counseling and accessibility support, resources to support student success, student government, campus life activities, student recreation, athletics and residence life.
A brief assembly for all visitors will take place at 9:30 am in Aultsville Theatre.
At 10 am, there will be breakout sessions by program, with faculty and current students· Campus tours will be available from 9 am to 12 pm.
One program that will likely garner some interest at the College Preview Day is the new one-year Logistics and Supply Chain Management program. Over three semesters, students will study all facets of logistics and supply chain management from both a theoretical and practical perspective. Students will benefit from hands-on experience and an integrated field placement during the program.
For more information on the Logistics and Supply Chain Management program, click here.
About St. Lawrence College
Located along the shores of the St. Lawrence River, SLC has three campuses in Brockville, Cornwall and Kingston. St. Lawrence College boasts 6,500 full-time students from Canada, and more than 40 countries worldwide. The SLC college community includes 20,000 part-time students, 1,000 staff, and more than 70,000 alumni. It also serves more than 3,000 Employment Services clients annually. The college has recently invested in the development of Applied Research and the revitalization of its campuses.
87.9 % of the College's recent graduates found work within six months of graduation, according to the latest Key Performance Indicator (KPI) data. St. Lawrence College received straight A's in all other KPIs:
Employer Satisfaction: 92.3%
Graduate Satisfaction: 81.3%
Student Satisfaction: 81.1%
You can find out more informaton on the St. Lawrence College website: