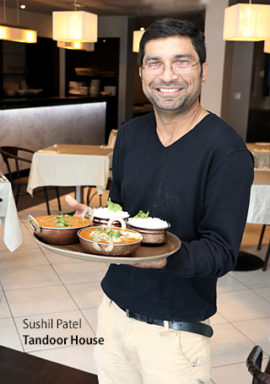 Tandoor House offers a Taste of India
July 6, 2018
Cornwall Ontario – If you're looking for a taste of India, but don't feel like taking a 16-hour flight to New Dehli, Downtown Cornwall has you covered.
Tandoor House, named after a clay oven of type that was originally used in northern India and Pakistan, is a relatively new restaurant, but one that has already become a local favourite.  Located at 25 Second Street East, it specializes in Indian food including curry, naan bread and samosas that will leave your mouth watering for more.
Tandoor House is the brainchild of co-owners Sushil Patel and Yogi Patel, who jumped at the opportunity to open a full dining restaurant.
"I've been here for almost 12 years now and have enjoyed serving people at my Subway restaurant, and people have always asked me why don't you open an Indian restaurant?", says Yogi Patel. "We're providing great Indian authentic food so customers don't have to travel to Ottawa or Montreal."
The menu at Tandoor House offers a variety of choices.
"We wanted a restaurant that included everyone, hence Indian and Canadian food,"  says co-owner Sushil Patel, who settled down in Cornwall five years ago.
That's not all they are appealing to; Indian food is an added bonus for vegetarians. Spices and sauces breathes new life into the likes of cauliflower, potatoes, peas and eggplant.
One of the featured meal options, and especially popular at lunch, is a selection of various dishes which are served on a round platter. Thali meal serving is popular in a variety of countries, including  India, Nepal, and Sri Lanka, to name just a few. You might want to pair your meal with a mango lassi – a cooling yoghurt drink, popular throughout the Indian subcontinent.
Yogi and Sushil are excited to see the development of the restaurant in the upcoming months. They hope that by focusing on the food they will be able to gradually tailor a holistic Indian dining experience to Cornwall residents.
With all its exotic ingredients, unfamiliar dishes, and tongue-tingling flavors it's no wonder that the reviews thus far have been positive.
Not able to dine in, Tandoor House also provides take-out and can be found on the mobile app Skip the Dishes.
Tandoor House is located at 25 Second Street East and is open Monday to Saturday 11am-9pm and Sunday 12pm – 8pm. The restaurant can be reached at 613-935-8777 or online at: