10 Years of Working for a Healthier Community
June 11, 2019
Cornwall Ontario – Ten has never looked so good.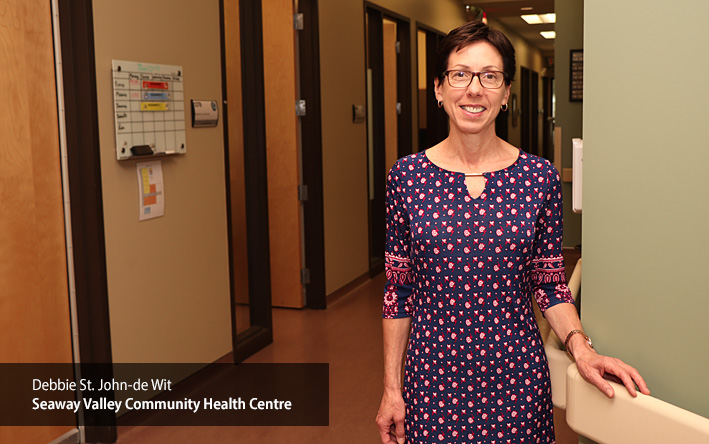 The Seaway Valley Community Health Centre is celebrating its 10th anniversary of delivering quality health care this year. It has been a journey of growth and service for the organization which was formed to address the issue of equity for citizens facing barriers to accessing the health care system.
"We have certainly grown over the past decade, however what has not changed is our mission," says Debbie St. John-de Wit, Executive Director. "We are here to support the health and wellbeing of local residents."
The Centre currently has over 4000 registered clients and now has a staff complement of over 45 which is supported by 68 volunteers.
"We know that a 'sense of belonging' is directly related to personal wellbeing," says Ms. St. John-de Wit. "Data is strong and shows that our model of community health is working."
One of the most successful programs is Telehealth which connects patients and families with specialists at hospitals such as CHEO or the Ottawa Heart Institute. Patients can avoid the extra time and stress of travel and specialists can direct care with the aid of a local attending nurse. Last year over 3600 telehealth appointments were handled by the SVCHC.
"The goal is to get people the health care they need in their own community, where they feel comfortable," says Ms. St. John-de Wit. "Telehealth, and our outreach programs – where our staff visit patients in their own home – are making a real difference in people's lives."
Medical visits to the SVCHC are by appointment only, and clients must be registered to access a physician or nurse practitioner. The Centre serves four key priority segments of the population: seniors, low income families, newcomers to Canada and those without a family doctor or nurse practitioner. However, all residents living in Cornwall and area are welcome to use and participate in the other services offered by the Centre, which include:
Primary Care
Nutrition
LGBTQ+ Outreach
Physical Activity
Mental Wellness and Self Management
Cardiac Rehabilitation
and many more
With the government moving towards Ontario Health Teams, Seaway Valley Community Health Centre plans to remain a key partner in local decision making related to health system transformation to ensure that "Every One Matters".
"We could not have managed any of our growth without the support of a long list of community partners," says Ms. St. John-de Wit. "By working together we can extend our programming to better serve local residents."
About the Seaway Valley Community Health Centre
The Seaway Valley Community Health Centre is a charitable, not-for-profit, community-led organization created to provide primary health care, health promotion and community development services to residents of Cornwall and the United Counties of Stormont, Dundas and Glengarry. The Centre is accredited through the Canadian Centre for Accreditation, a third-party review based on accepted organizational practices that promote ongoing quality improvement and responsive, effective community services.
The Seaway Valley Community Health Centre is located at 353 Pitt Street in Downtown Cornwall. You can reach the Centre online at: