Academic Year Begins for St. Lawrence College
September 5, 2019
Cornwall Ontario – Hundreds of college students have arrived at the Cornwall campus of St. Lawrence College (SLC) anxious to get the fall semester underway.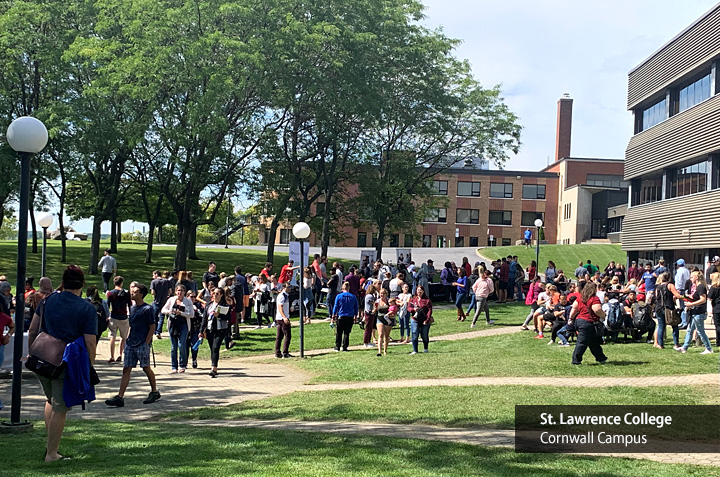 "There is a positive energy to the start of any school year, and that is shared by faculty and administration," said Glenn Vollebregt, President and CEO. "Our goal at SLC is to provide exceptional opportunities for students to further their education, and to do so in an environment that is welcoming and productive for all."
While it may be too soon to have a final count of students in Cornwall, it is fair to say that among the approximately 1,300 students there, considerable diversity exists on campus. The student population incudes full- and part-time students, returning students and people entering post-secondary for the first time. Some students are from Cornwall and the surrounding area, many are from Ontario, and an increasing number are from other parts of the world, such as Asia and South America.
"An important part of the college experience is exposure to other people so we can all learn from each other's experiences," says Mr. Vollebregt. "There is a real sense of community on campus, which is in part aided by smaller class sizes that allow faculty and students to interact more closely."
There are a variety of programs available on the Cornwall Campus, which include accounting, marketing, and human resources as well as general arts and sciences, police foundations, practical nursing, personal support worker, and early childhood education. Technical courses are available in carpentry, welding, computer technology, and game programming. Courses in environmental technology and supply chain management are also available.
Additionally, SLC offers several pathways for degree completion through partnerships with universities in Canada and around the world, including Queen's University, Carleton University, the University of Ontario Institute of Technology, as well as several schools in Ireland. The college is proud of the ways their programs connect students and Cornwall with the world.
"Our courses are designed to prepare students to be career ready after graduation," says Mr. Vollebregt. "St. Lawrence College puts students first, and that, along with our other values of innovation, integrity, teamwork, and belonging help ensure everything we do is to ensure our students are successful.
For the 2019-2020 school year, SLC awarded $172,000 in bursaries and scholarships to 140 Cornwall students. This includes the Ed Lumley Bursary from the Joyce Family Foundation, which will support 12 Cornwall students this year and for up to three years of their schooling. These bursaries and scholarships have been made possible through the generous support of members of the Cornwall community.
About St. Lawrence College
Located along the shores of the St. Lawrence River, St. Lawrence has College has three campuses in Brockville, Cornwall and Kingston. The College boasts 6,500 full-time students from Canada, and more than 40 countries worldwide. The SLC college community includes 20,000 part-time students, 1,000 staff, and more than 70,000 alumni. The college has recently invested in the development of Applied Research and the revitalization of its campuses.
You can find out more information on the St. Lawrence College website:
St. Lawrence College is also featured in the new edition of Cornwall Living magazine. You can order your complimentary copy by clicking here.