ACCCatalyst Symposium Aimed at Business Professionals
November 6, 2023
Cornwall Ontario – On November 9th, ACCFutures is holding a special workshop aimed at bankers, accountants, lawyers – any professional that works with small and medium sized businesses.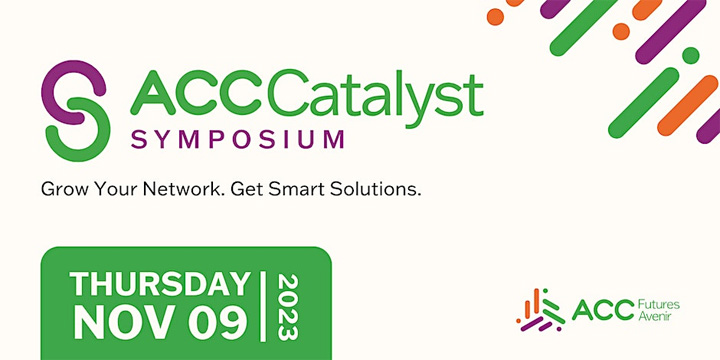 "As professionals committed to entrepreneurial success, we know how hard it is to tell clients 'No'," says Greg Pietersma, Executive Director of ACCFutures. "ACCCatalyst Symposium is designed to turn those 'Nos' into 'Let's Do This'!"
The afternoon event offers a number of unique opportunities to to grow your network, get smart finance solutions, and ignite your relationships with clients:
Special Highlight: Marc Lafleur will lead an exclusive Ask-Me-Anything session. This is a golden chance to tap into the wisdom of a true entrepreneurial pioneer.
Unlock Programs: Discover groundbreaking financial solutions that empower you to say 'Yes' more often, making you the key player in your client's journey.
Ignite Client Relationships: Elevate your status as the go-to financial guide with programs that exceed the usual and venture into the exceptional.
Expand Your Network: Engage with a community committed to changing the entrepreneurial lending narrative, one empowered professional at a time.
Show & Tell Segment: Walk away with actionable insights on programs offering up to $1M in financing. Turn possibility into reality for your clients.
"Let's rewrite the story of entrepreneurial lending," adds Mr. Pietersma. "Share and join us in making a difference!"
Event Details
Thursday, Nov 9, 2023
12:30 PM – 4:30 PM
Lost Villages Brewery – 16133 County Road 36, Long Sault, Ontario
Register Now!
The clock is ticking, and spaces are limited. Register now and transition from being an option to being the only choice for your clients!
Who Should Attend?
ACCCatalyst Symposium is specifically tailored for:
Bank executives
Loan officers
Venture capitalists
Angel investors
Financial consultants
About ACCFutures
ACCFutures, through funding from the Federal Economic Development Agency for Southern Ontario (Fed Dev Ontario) delivers a wide variety of programs and services to support community economic development and small business growth. It employs local staff and is governed by a volunteer board of directors, made up of residents representing the community.