Apprenticeship Info Session Set for February 28
January 31, 2023
Cornwall Ontario – The Canadian Apprenticeship Forum is holding an information session for area employers to learn more about a new program that offers a large hiring incentive for employers wishing to take on new apprentices.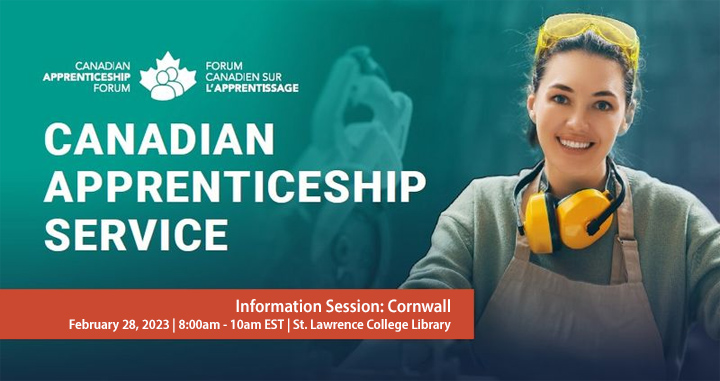 The Canadian Apprenticeship Service offers up to $5,000 in grant funding for any new level 1 apprentice and up to $10,000 per apprentice who identifies as under-represented.
Join Canadian Apprenticeship Forum representatives for breakfast at the beautiful St. Lawrence College Library on the Cornwall Campus to learn about this new program, as well as other resources available to support employers
"We are in town to discuss how employers can access funding to support the hiring and retention of new, Level One apprentices in 39 Red Seal trades," says Stephanie Shrum, Program Manager with the Canadian Apprenticeship Forum. "The info sessions have proved popular in other cities and we are happy to be able to connect with Cornwall and SDG employers right in their own community."
The Canadian Apprenticeship Service is being delivered through a collaboration of industry-leading partners: BuildForce Canada, SkillPlan, ApprenticeSearch.com, Aboriginal Apprenticeship Board and the Canadian Construction Association. The program will provide a range of supports, in addition to the grant, to the expert trainers of Canada's future skilled trades workforce.
The Information Session is being hosted by St. Lawrence College, which has a number of skilled trade programs at its three campuses, including carprentry, welding/fabricatin and automotive technician on the Cornwall Campus.
"We know that local employers are looking to hire more skilled trades and St. Lawrence College is there to help by supplying well-trained students that are ready to step into an apprenticeship role," says Daniel Liao, Dean of Applied Science, Technology & Trades with St. Lawrence College.
St. Lawrence College Career Services will discuss the various supports and resources that are available to employers in Cornwall and the surrounding area.
Register Today!
There is no cost to attend the information session, however advance registration is required.
Date: February 28th, 2023
Time: 8:00am – 10:00 am EST
Location: 2 St. Lawrence Dr. Cornwall, ON. In the Library, Room A209
About the Canadian Apprentice Forum
CAF-FCA is a non-profit organization that connects Canada's apprenticeship community. Participants work collaboratively to support vibrant and innovative apprenticeship systems and policies with a view to developing a highly skilled, inclusive and mobile skilled trades workforce.