Astronaut Andrew Feustel to Speak at Year in Review
November 29, 2018
Cornwall Ontario – NASA Astronaut Andrew Feustel will be visiting Cornwall in December and his first speaking engagement will be at the Team Cornwall Year in Review meeting on December 12.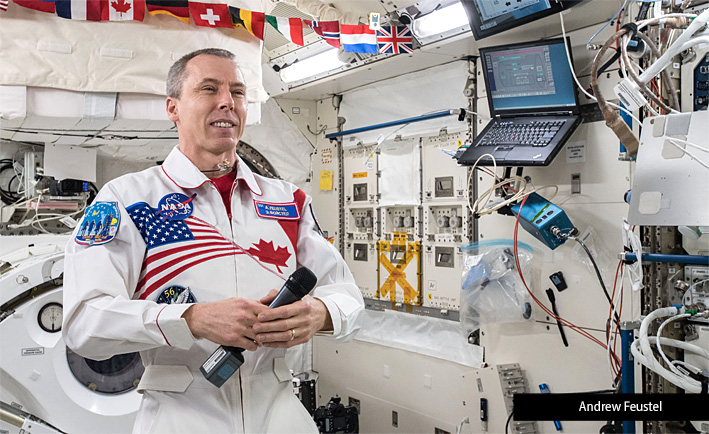 Dr. Feustel most recently served as Commander of the International Space Station, returning to Earth just a few weeks ago on October 4, 2018.
"We are very happy to be able to welcome Dr. Feustel to Cornwall to share his experiences as an astronaut," says Peter Gault, Chair of Team Cornwall. "Drew has viewed Cornwall from the most unique of perspectives – 400 km above the Earth."
Dr. Feustel will be joined on this trip by his wife and Cornwall native Indira.  Dr. Feustel will share highlights of his mission and Indira will provide her insight from the family support perspective. The couple made a similar visit in 2010.
Dr. Feustel recently spent months providing hands-on support for scientific research in low-Earth orbit on the International Space Station, working to keep the orbiting laboratory fully operational, and performing three spacewalks. He and the crew of Expedition 55/56 completed hundreds of experiments during their 197-day expedition in space. Highlights included an investigation to study ultra-cold quantum gases using the first commercial European facility for microgravity research, and a system that uses surface forces to accomplish liquid-liquid separation.
Dr. Feustel has a Ph.D. in Geological Sciences from Queen's University, specializing in Seismology, and is a veteran of three spaceflights. In 2009, Dr. Feustel served on STS-125. That mission launched on the Space Shuttle Atlantis and was the fifth and final mission to service the Hubble Space Telescope that improved the observatory's capabilities through 2014. Dr. Feustel also served on STS-134, launching on Endeavour to deliver the Alpha Magnetic Spectrometer and an ExPress Logistics Carrier to the International Space Station.
Dr. Feustel most recently served on Expedition 55/56 which launched from Baikonur Cosmodrome in Kazakhstan in March 2018. He grew up in Lake Orion Michigan, and became a Canadian citizen during his time with NASA.
About the Year in Review Meeting
Each year over 300 businesses and community leaders gather to hear a recap of the year's economic activity. The presentation is prepared by Cornwall Economic Development and the meeting is organized by Team Cornwall.  This year's meeting will be held on December 12 at Galaxy Cinemas on Second Street. Tickets are on sale now, click on the following link for more info:
About the International Space Station
The space station has been continuously occupied since November 2000. An international crew of six people live and work while travelling at a speed of five miles per second, orbiting Earth about every 90 minutes. The acre of solar panels that power the station means sometimes you can look up in the sky at dawn or dusk and see the spaceship flying over your home, even if you live in a big city.
Follow the Feustels
You can connect with Drew and Indira on social media:
Drew
Indira
Drew Feustel is also featured in the 2018 edition of Cornwall Living magazine.