Aurra Coffee Opens Mobile Food Truck in Cornwall
July 8, 2021
Cornwall Ontario – There's a new food truck in town, and while it carries a distinctly Canadian vibe it also features some tasty treats with a southern flair.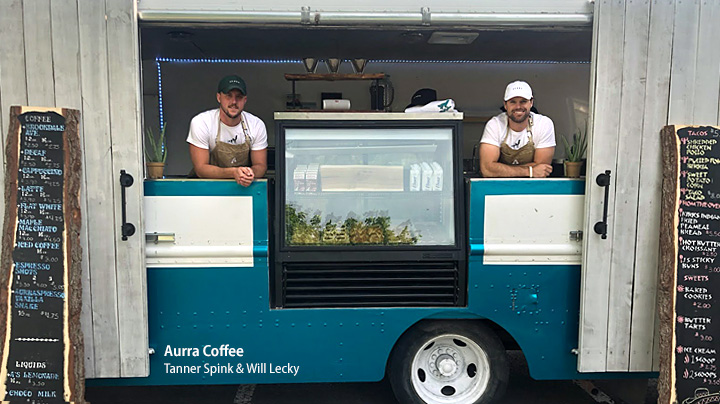 Aurra Coffee offers elegantly crafted specialty coffee along with flavourful authentic street tacos. The company is operating out of a mobile truck at the Ramada Inn, with outdoor garden seating for over 20 people.
"Our goal is to create a fun, vibrant, and exciting experience," says owner Will Lecky. "I have not seen the combination of coffee and tacos in Canada before, and they make a great pairing. Our coffee is roasted to perfection and served in a very personal way, and our tacos are handcrafted to be unbelievably authentic."
Mr. Lecky is back in Cornwall after playing professional golf across North America for several years and has teamed up with Tanner Spink, who has just returned home from playing university hockey. The two friends are hoping local residents will feel a sense of pride and ownership in the brand.
"Aurra was built by Cornwall, for Cornwall," says Mr. Lecky. "We have an amazing city and we saw an awesome opportunity to do our part and make a positive impact in our hometown. Aurra is a culture that is built on sustainability, local pride, and an amazingly positive vibe."
Coffee lovers can also get specialty drinks such as maple macchiato, flat whites and iced coffee, including the Aurraspresso – where expresso meets ice cream. In addition to tacos and coffee, Aurra also boasts numerous tasty menu items such as ice cream, freshly baked goods, homemade iced tea and lemonade, along with their signature fried Peameal breakfast sandwiches, which are made the true native American way by Aurra's own indigenous chef Kirk.
"In our eyes Cornwall is one of the best spots in the country to start a business," says Mr. Lecky. "Good things are happening in the city and we hope to add to it."
Aurra is open for coffee Tuesday through Sunday from 8am to 8pm. Tacos are available Tuesday to Saturday from 11am to 8pm. You can find the truck at Ramada Inn parking lot near Eight Zero Zero at 805 Brookdale Avenue.
You can connect with Aura online at: