Barburrito Opens New Restaurant in Cornwall
March 24, 2023
Cornwall Ontario – People looking to add a Tex-Mex twist to their meals have a new option in Cornwall with the opening of Barburrito on Ninth Street.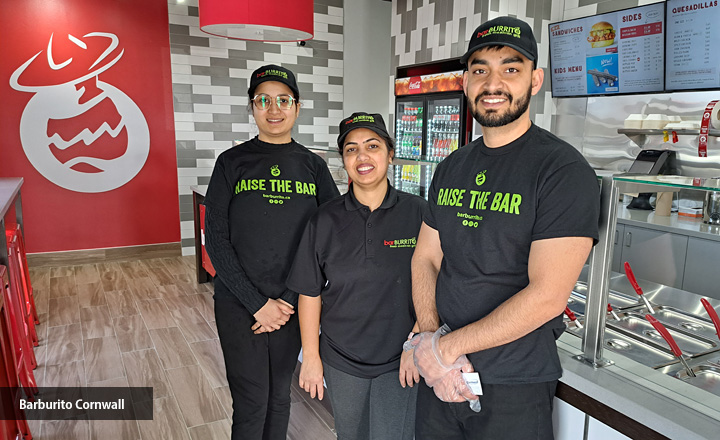 The Barburrito menu offers a number of tasty choices including tacos, quesadillas, sandwiches, bowls and more. Not surprisingly, the star of the menu is their popular lineup of burritos.
A burrito is a dish in Mexican and Tex-Mex cuisine consisting of a flour tortilla wrapped into a cylindrical shape around various ingredients. The tortilla is sometimes lightly grilled or steamed to soften it. Burritos are filled with savory ingredients, most often a meat such as beef, chicken, or pork, and often include other ingredients, such as rice, cooked beans (either whole or refried), vegetables, such as lettuce and tomatoes, cheese, and condiments such as salsa, pico de gallo, guacamole, or crema.
The Cornwall restaurant is located in the former TD Bank building at the corner of Ninth and Sydney.  The 1200 sf restaurant offers take-out and in-store dining for 19 patrons.
The very first Barburrito opened  in Toronto in 2005, and since then the quick-service restaurant chain has rapidly expanded, opening dozens of stores across Canada. Barburrito focuses on offering great quality Tex-Mex food, fresh, fast, and without compromise. From its guacamole to fresh toppings like jalapeños, the Barburrito menu offers healthy choices. It uses chicken raised by Canadian Farmers and its recipes are made with Hellmann's Mayonnaise.
Barburrito Cornwall is located at 61 Ninth Street East and is open 7 days a week from 11am to 9pm. The restaurant can be reached by phone at (613) 938-7778 or online at: