Barley Boxer Dog Treats Setting Tails Wagging Across the Region
December 5, 2019
Cornwall Ontario – Dog Approved.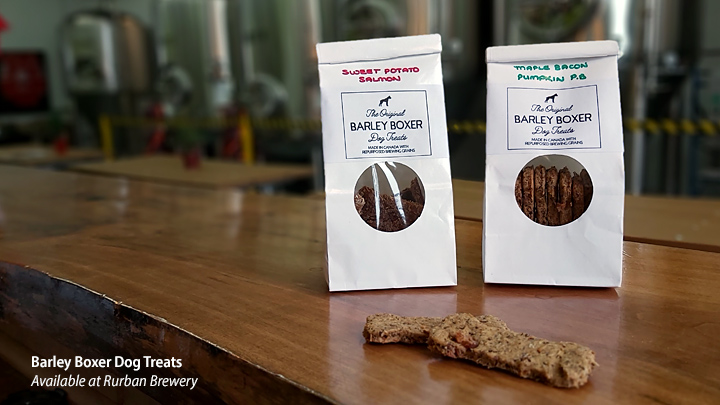 A local man is making tasty dog treats using beer grain courtesy of Cornwall's local craft brewery. And by all accounts, from beagles to terriers alike, dogs are giving The Original Barley Boxer Dog Treats the bark of approval.
"Every dog owner wants to know what they are feeding their dogs," says Jeff Lalonde, the man behind the dog cookies. "Dog treats are an important reward for good behaviour and Barley Boxer treats are made with pet friendly ingredients, with dogs' health in mind."
Mr. Lalonde launched his business earlier this year after talking with Andy and Karen Rorabeck at Rurban Brewing about using the spent grains left over from the brewing process. With the help of his two boxers, Khalessi and Sansa, he explored recipes and baking techniques.
"There is still a lot of nutrition in the grains and Rurban was happy to find an alternative use for the barley," says Mr. Lalonde. "We take the repurposed grains and add additional flavours such as salmon and bacon."
The Barley Boxer treats made their debut in the spring and the first production run quickly sold out.  As demand grew the company logo and packaging evolved with the help of a local printing company. Today the product can be purchased at Rurban Brewing and delivery is available with the purchase of 5 or more bags of dog treats.
"This is our home town, and although we are still small, we hope to expand as the demand grows," says Mr. Lalonde.  "We are very thankful for the support we have received from Rurban and the community."
Barley Boxer Dog Treats can be purchased at Rurban Brewing at 412 Cumberland Street. You can also connect with The Barley Boxer online: