Baxtrom's Your Independent Grocer Unveils Newly Renovated Store
September 15, 2023
Cornwall, Ontario  — With renovations complete and a new Starbucks to greet customers as they enter the store, Baxtrom's Your Independent Grocer is showcasing a new shopping experience at its long standing store in the heart of the city.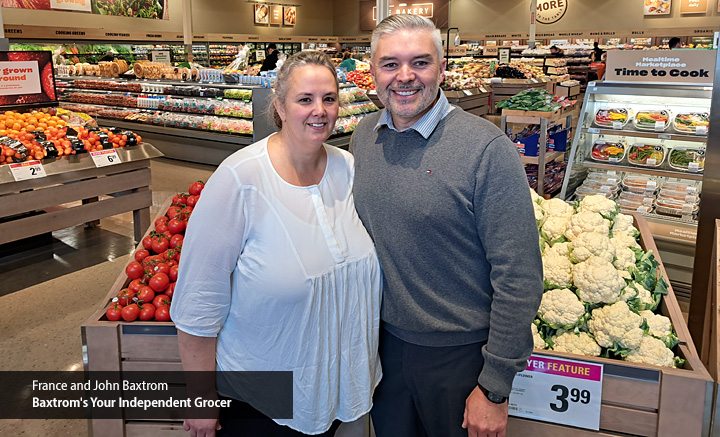 The new store features an expanded and redesigned Kitchen and Delicatessen, and along with its Bakery and Butcher shop offers fresh food ready for the table or stove. Renovations include redesigned aisles, an expanded homewares section and the addition of a full service Starbucks. The goal was to provide customers with a modern and convenient shopping experience that caters to their needs.
"We are happy to provide a new shopping experience to Cornwall, bringing more to the table through enhanced customer service and an increased range of available goods," says John Baxtrom, who owns the store along with his wife France. "We appreciate the patience of our customers during renovations and invite the entire community to check out the new store."
The grand opening festivities kicked off this morning with a ceremonial ribbon cutting, marking the official reopening of the store. Throughout the day the store will feature sampling stations showcasing new and exciting products, allowing visitors to experience fresh flavours and culinary delights. As part of its commitment to the community, Baxtrom's will also present a charitable donation to the Children's Treatment Centre, supporting the wellbeing of local children.
"I would like to congratulate John and France Baxtrom, and their entire team on the completion of their renovations", said Mayor Justin Towndale. "These store improvements, and the establishment of an additional Starbucks location, are great investments in our community."
About Baxtrom's Your Independent Grocer
Baxtrom's Your Independent Grocer is located at 31 Ninth Street East and is open 7 days a week starting at 8:00 am.  In addition to a full service grocery offering, Baxtrom's also includes a pharmacy, PC Financial kiosk, Canada Post kiosk and Wine Rack. With a focus on quality products, community engagement, and innovation, Baxtrom's continues to be a staple in the community and is part of the Loblaw retail grocery group.
 About Loblaw Companies Limited
Loblaw Companies Limited is Canada's food and pharmacy leader and the nation's largest retailer. Loblaw provides Canadians with grocery, pharmacy, health and beauty, apparel, general merchandise, financial services, and wireless mobile products and services. With more than 2,400 corporate, franchised and Associate-owned locations, Loblaw, its franchisees, and Associate-owners employ approximately 200,000 full- and part-time employees, making it one of Canada's largest private sector employers.