Booster Juice Returns to Cornwall
October 5, 2023
Cornwall Ontario – One of Canada's franchise success stories has returned to Cornwall with a new store in the East End.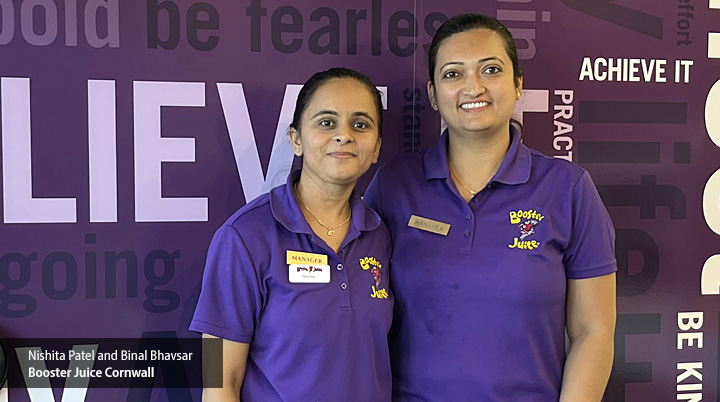 Booster Juice Cornwall is now open to satisfy the cravings of local residents at the Glengarry Plaza at 1315 Second Street East. The plaza is home to Food Basics, LCBO and Galaxy Cinemas, along with growing lineup of quick service restaurants including Osmow's, Popeyes and Burger King.
"We are very happy to announce the opening of our new business Booster Juice Cornwall," says owner Binal Bhavsar. "Please come and see us to try our delicious smoothies and food!"
Booster Juice offers delicious, nutritious smoothies blended right before your eyes, along with a lineup that includes wraps, paninis, quesadillas and booster balls. Its legendary lineup of over 25 smoothies combine the freshest ingredients to nourish the body and satisfy cravings.
Booster Juice uses up to twice the fruit and half the ice of the competition
Mainstay menu items that contain Superfoods, such as Matcha Green Tea and Açaí Berry
Over 100% of the daily requirement of fruit and juice in most smoothies
A signature free Booster (nutritional supplement) is offered in all regular (710 ml) smoothies
The new Cornwall Booster Juice is located at 1315 Second Street East. Regular store hours are Monday to Saturday 7:00 a.m. to 9:00 p.m., and Sunday 10:00 a.m. to 6:00 p.m.
About Booster Juice
The first Booster Juice location was opened in Sherwood Park, Alberta by entrepreneur Dale Wishewan in 1999. As it turns out, people were ready for a healthy fast-food alternative, and there was nothing else like Booster Juice in the market. By the end of year one, 15 locations were open and in year two, 35 more were added. 50 stores in 2 years is considered a Canadian Franchise Record for store openings from inception. Now with over 400 locations, Booster Juice is proud to be Canadian born and blended worldwide. The company was also named one of the best companies to work for in Canada by Forbes.