Bridges to Better Business Returns in October
September 28, 2023
Cornwall Ontario – One of the most anticipated events on the small business calendar is around the corner.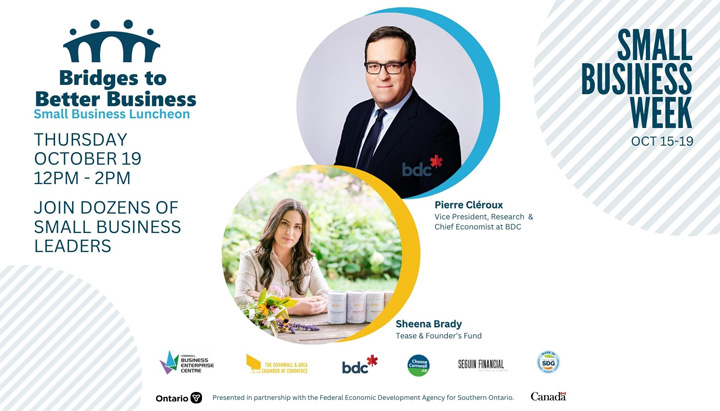 Bridges to Better Business will once again be the highlight of Small Business Week (October 15-19), and as in past years, the Cornwall Business Enterprise Centre and the Cornwall Chamber of Commerce have partnered to provide valuable resources, networking opportunities, and educational workshops to support the growth and success of local businesses.
"We are thrilled to partner with the Cornwall Chamber of Commerce for the Bridges to Better Business event during Small Business Week," said Shauna Baggs, Small Business Development Coordinator, Cornwall Business Enterprise Centre. "This event is designed to empower local businesses, foster collaboration, and provide valuable resources to support their growth."
The Bridges to Better Business event will feature a variety of engaging activities, both online and in-person. The schedule includes:
Canva Workshop (Online): On October 17 at noon, join us for an interactive Canva workshop where participants will learn how to create visually appealing graphics and designs for their businesses. This online workshop will provide practical tips and techniques to enhance your brand's visual presence. To register: Canva Workshop
Chamber Pub Night at Winner Sports Bar: On October 17, starting at 5:00 PM, join us for a casual and enjoyable evening of networking and socializing at the Winner Sports Bar. Connect with fellow business owners, exchange ideas, and build valuable relationships in a relaxed atmosphere.
CDAP Workshops Sponsored by MNP: On October 18, we are pleased to offer workshops on the Canada Digital Adoption Program (CDAP) in both Morrisburg and Cornwall. These workshops, sponsored by MNP, will provide valuable insights and strategies for accessing funding and resources to support business growth and development. To register: CDAP Workshop Morrisburg or CDAP Workshop Cornwall
Business Luncheon: On October 19, join us for an afternoon networking lunch featuring keynote speakers Sheena Brady and Pierre Cléroux from BDC. These influential speakers will share their expertise, insights, and success stories, providing inspiration and practical advice for business owners. To register: Bridges to Better Business Luncheon
"We are thrilled to celebrate Small Business Week and partner with the Cornwall Business Enterprise Centre for the Bridges to Better Business event," said Angela Bero, General Manager of the Cornwall Chamber of Commerce. "Small businesses are the backbone of our community, and this event provides a valuable platform for entrepreneurs and business owners to connect, learn, and grow. We encourage everyone to participate and take advantage of the diverse range of activities and resources available. Together, we can support and strengthen our local business community."
Register Now
The Bridges to Better Business event is open to all business owners, entrepreneurs, and individuals interested in starting their own business. There is no charge to attend any of the events, and everyone is welcome. For more information and to register for the Bridges to Better Business event, please visit https://businessenterprisecentre.ca/events/.
About  the Keynote Speakers
Sheena Brady is the founder and CEO of Tease Tea, an all-natural and sustainably sourced loose-leaf tea company based in Ottawa, Canada with customers around the globe. She has since grown her side hustle into a multimillion-dollar award-winning company that serves customers in over 30 countries around the world. Founders Fund is the first digital accelerator supporting members who are underrepresented, women identifying entrepreneurs during every stage of their journey. Members can access mentorship, resources, and non-repayable funding for their business.
Pierre Cléroux leads a team of experts at BDC who analyze economic data to identify business and sector trends impacting Canadian entrepreneurs. A seasoned speaker, he helps business owners understand the risks and opportunities presented by the economic environment. Mr. Cléroux is also responsible for providing economic analysis and advice to the Bank's senior management team, and supervises all marketing and industry research activities. Over his 25-year career as an economist, he has held several influential positions that had a direct impact on entrepreneurs in Canada and abroad.
About Cornwall Chamber of Commerce
The Cornwall Chamber of Commerce is a dynamic organization dedicated to promoting and supporting the local business community in Cornwall. They provide networking opportunities, advocacy, and resources to help businesses thrive.
About the Cornwall Business Enterprise Centre
The Cornwall Business Enterprise Centre provides information and support to entrepreneurs during start‐up and growth stages of business operation. Seminars, workshops, and special events are held throughout the year, on topics of interest to various types of businesses. The Centre also administers the popular Summer Company program for student entrepreneurs and the highly successful Starter Company PLUS program. The Centre has been operated by the City of Cornwall Economic Development Department since 1997 and is funded in part by the Government of Ontario.
The Cornwall Business Enterprise Centre is located at 100 Water Street East (Cornwall Civic Complex) and can be contacted by email at entrepreneurship@cornwall.ca: