Bridges to Better Business Set for October 22
October 7, 2019
Cornwall Ontario – One of the year's most anticipated small business events is set to go for October 22.
The Bridges to Better Business event is a dynamic day of small business focused workshops along with a special luncheon to celebrate Small Business Month. This is the fifth consecutive year that the Bridges event has been held in Cornwall, and once again there is a strong focus on bringing contemporary issues to the table.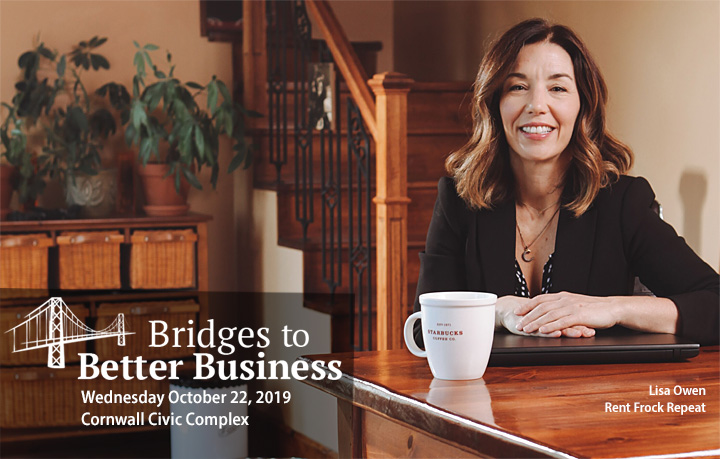 The keynote speaker for the event is Lisa Owen, Co-Founder of award-winning fashion retailer Rent Frock Repeat. Ms. Owen will speak to the value of being nimble in today's every changing business landscape, and the evolution of Rent Frock Repeat into an exciting new business model.
"Ms. Owen understands the challenges facing local small business owners," says Candy Pollard of the Cornwall Business Enterprise Centre. "The success of her company is due in no small part to proper business planning together with the vision and creativity common to most entrepreneurs."
Beyond the keynote, there is a powerhouse line-up of speakers for the event. Topics include:
Funders Forum
Talent Attraction and Retention
Easy Innovations For Your Business
Succession Planning
"The Bridges event is a great opportunity for any small business to gain insight from industry leaders," says Lesley Thompson, Executive Director of the Cornwall & the Counties Community Futures. "It is also an excellent opportunity to network and raise the profile of your business."
The Bridges event is one of several seminars being offered this month in celebration of Small Business Month and is being organized by the Cornwall Business Enterprise Centre, the Cornwall Chamber of Commerce, and the Community Futures Development Corporation. Additional events can be found on TheBizzBuzz.ca
Bridges to Better Business is focused on the small business sector in Cornwall, SDG and Akwesasne. It will be held at the Cornwall Civic Complex on Tuesday, October 22, 2019 beginning at 8:30 a.m.
Ticket Info
Tickets are available through Eventbrite.
You can learn more about the three organizations organizing the event below:
About the Cornwall Business Enterprise Centre
The Cornwall Business Enterprise Centre is operated by Cornwall Economic Development in partnership with the Ministry of Research & Innovation. It provides information and support to entrepreneurs during start‐up and growth stages of business operation, in addition to holding a number of seminars and workshops on timely topics.
About Cornwall and the Counties CFDC
Cornwall & The Counties Community Futures Development Corporation (CFDC) is a non-profit development agency, which delivers a wide variety of programs and services to support community economic development and small business growth in the region.
About the Chamber of Commerce
The Cornwall and Area Chamber of Commerce is the unified voice of the region's business community speaking towards growth, leadership and innovation. With direction from the elected board of directors, the Chamber looks to continuously progress the community through political advocacy, knowledge-based development and innovative opportunities.