Burger Love a 10-Day Celebration of the Hamburger
August 26, 2020
Cornwall Ontario – There is nothing quite as satisfying as a good hamburger. Now burger lovers will have 10 days to experience burgers like they've never seen before.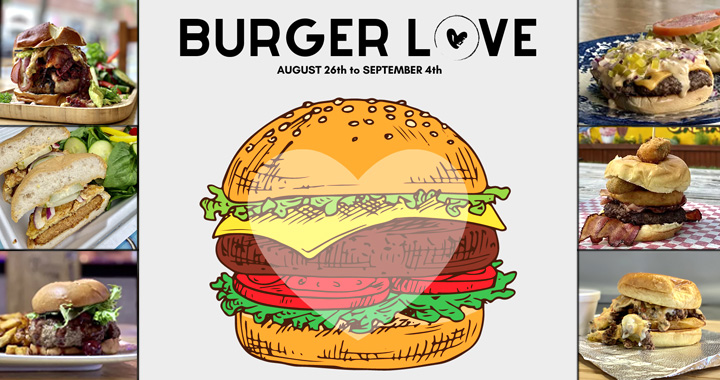 Burger Love is a ten-day celebration of hamburgers, with local participating restaurants serving up their own unique twists on the humble hamburger. You can enjoy either dine in or take-out.
This year's Burger Love entries feature pretty much something for every palate, with ingredients ranging from parmesan cheese and sour cherry sauce to a plant-based burger, smoked brisket and more. The fric fry – a local culinary delicacy – even makes an appearance in this year's burger line-up.
"We are really excited with the variety of burgers that are available for the first-ever Burger Love event," says Pat Larose, co-founder of Taste Buds, the local company organizing the event. "We encourage people to try and taste as many burgers as you can over the next 10 days."
Burger Love runs from Wednesday, August 26th to Friday, September 4th and foodies are encouraged to vote on the Taste Buds website for their favourite entry (after trying all of them, of course).
Participating Restaurants
Truffles Burger Bar – Cherry Blossom Burger

Beef patty stuffed with gorgonzola, blue cheese & caramelized onions, topped with a sour cherry sauce and arugula on a brioche bun.

Simply Jennifer – Hickory Smoked PB & Maple Tempeh Bacon Burger

Hickory smoked plant-based burger served up with roasted garlic peanut sauce, homemade dill pickles, red onion, and maple tempeh bacon.

Tilly's – The Drama Burger

Ground sirloin burger topped with smoked brisket, caramelized onions in beef jus, lime soaked avocados, bacon, dijon mustard and havarti cheese on a pretzel bun.

Seguin Patate – Fric Fry Burger

Original Seguin Patate fries, topped with ground beef, homemade hot sauce, diced onions and curds on a brioche bun.

Brunch on Pitt – Big Mike Burger

Locally sourced beef patty, cheddar cheese, diced white onion and dill pickle, big mike sauce with lettuce and tomato.

Gaetan's – The Heart Stopper

Beef patty, bacon, smoked meat, bbq sauce, dijon mustard, topped with cheese curds, hot peppers, onion ring, fried pickle, and a jalapeno popper.

Lancaster Pizzeria – The Italiano

Triple-A beef patty topped with parmesan cheese, homemade bruschetta, and alfalfa on a toasted brioche bun with homemade garlic butter.
About Taste Buds
Burger Love is organized by Taste Buds, a local business that organizes food and drink events with a focus on all things local.