Business Community Virtual Town Hall to be held Thursday
April 15, 2020
Cornwall Ontario – Since the beginning of the COVID-19 crisis, Canadian businesses have seen their operations undergo a significant disruption. At the same time, business owners have been inundated with information on various government supports.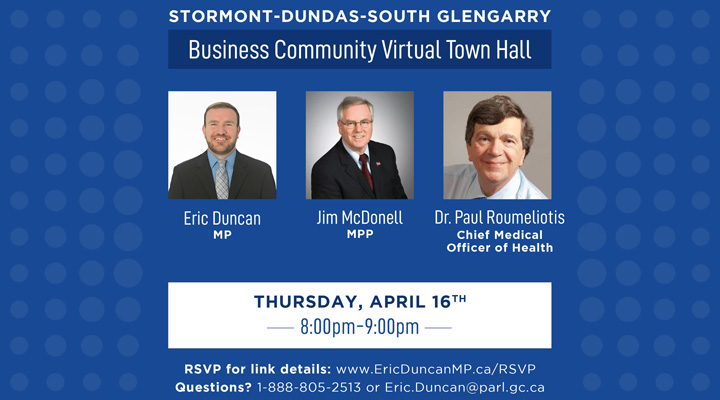 Local businesses are invited to a virtual town hall Thursday night hosted by MP Eric Duncan, who will be joined by MPP Jim McDonell and Dr. Dr. Paul Roumeliotis from the Eastern Ontario Health Unit.
"We want to hear from you and also provide updates on the latest COVID-19 issues we have been working on," said Eric Duncan, Member of Parliament for Stormont Dundas and South Glengarry. "The aim is to provide an update on COVID-19 situation with respect to its effects on local businesses and programs offered to assist."
The meeting will be held via the online platform Zoom and is open to members of the business community in Mr. Duncan's riding which includes the city of Cornwall.
Date and Time 
Thursday April 16 2020 from 8:00 pm-9:00 pm
Agenda
MP Update (5-10 minutes)
MPP Update (5-10 minutes)
Dr. Paul update (5-10 minutes)
Q&A/Feedback (30-45 minutes)
Registration
Participants must register in order to receive the log on information for the meeting. RSVPs are required at www.EricDuncanMP.ca/RSVP.
Recording
For those unable to attend live, a recording of the evening's event will be made available online through MP Eric Duncan's Facebook Page on Friday, April 17.

We summarize the latest news about the impacts of COVID-19 on Cornwall businesses on a daily basis. Click on the following link to view: