Business Enterprise Centre Staff Earn Social Enterprise Coaching Certification
May 23, 2019
Cornwall, Ontario –  Creating a positive social impact with your business is a hot topic amongst entrepreneurs of late.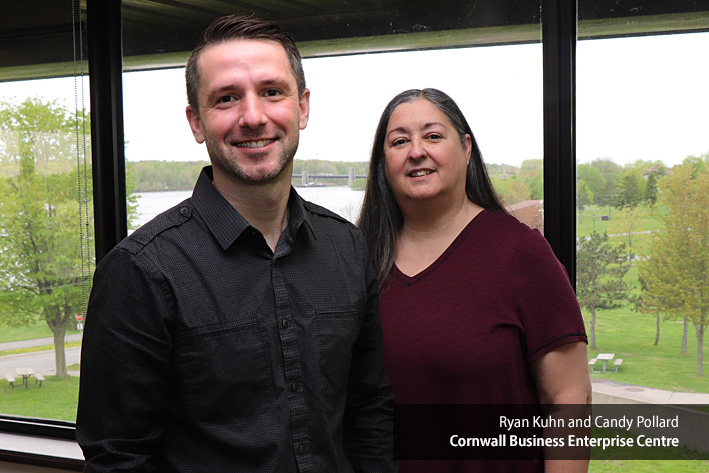 Cornwall Business Enterprise Centre staff recently explored the issue with the help of the Social Enterprise Institute and are now in a position to share the knowledge gained and help business owners in Cornwall explore this opportunity.
"There is a whole spectrum of how small businesses can make a positive social impact, ranging from doing nothing at all to becoming a true social enterprise," says Candy Pollard, Business Consultant at the Cornwall Business Enterprise Centre. "It is important that entrepreneurs investigate the topic and determine what is the best fit for their business."
The term social enterprise typically refers to a business that exists to achieve a social impact, such as a bicycle repair shop that employs developmentally challenged individuals and funnels all profits back into the enterprise. In Cornwall, an example would be the Serendipity Boutique, a business that uses the profits from the sale of gently-used clothing to fund the Baldwin House, which helps women and their children transition from violent and abusive circumstances to a safe and secure environment.
However, businesses can still become community champions and retain a traditional business model by developing strategies to achieve a social impact. This could be as simple as donating a percentage of sales to a local charity, or choosing to only use ethically produced sustainable products.
In addition to the primary benefit of affecting positive change in the community, there are a number of other benefits to adding a social component to a business, including goodwill and consumer loyalty. If a company can demonstrate their good intentions, recent studies have indicated that consumers are willing to switch brands to support a cause.
"Small business has been the lifeblood of our economy for decades, and many of our most successful and long standing businesses constantly give back to the community," says Ryan Kuhn, Program Co-ordinator at the Cornwall Business Enterprise Centre. "With the threat of online sales pulling customers away, being upfront and explaning the social causes that a business supports will help win new customers."
Still, there seems to a growing interest amongst some entrepreneurs about taking it a step further and creating true social enterprises. Regardless of how far the entrepreneur wants to take their idea, the Business Enterprise Centre can provide advice, research materials and information on potential provincial and federal government funding support.
About the Cornwall Business Enterprise Centre
The Cornwall Business Enterprise Centre helps small business owners and entrepreneurs succeed in Cornwall, Stormont, Dundas, Glengarry & Akwesasne by offering information, tools and support during the start-up and growth stages of business operation. This includes administration of the Summer Company and Starter Company PLUS programs.  The Cornwall Business Enterprise Centre is operated by Cornwall Economic Development and funded in part by the Government of Ontario.
The Cornwall Business Enterprise Centre is located at 100 Water Street East (Cornwall Civic Complex) and can be contacted by phone at 613-930-2787 x2276 or online at: