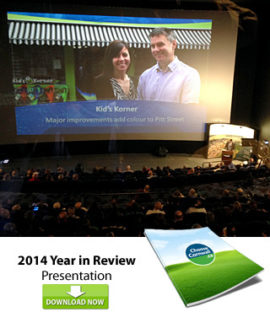 2014 Economic Activity Recapped In Report
December 17, 2014
Cornwall Ontario – In what has become a popular December tradition, the year's top business stories were celebrated at the Team Cornwall Year in Review meeting.
Over 300 community and business leaders were on hand for Cornwall Economic Development's presentation which chronicled investments made by well over 150 businesses.
"2014 was another positive year of growth for Cornwall, with significant development occurring across all sectors," said Mark Boileau, Manager of Cornwall Economic Development.
One of the key measures of economic development activity is building permit activity, and while the final numbers are not quite tallied, the value of building permits issued in 2014 are expected to top $55 million.
"The value of building permits issued in 2014 represents an increase of 80% over 2013," noted Mr. Boileau. "Our Building Permit department has processed 715 permits this year, which is the highest total since 1989."
Some of the larger development projects occurred in the Cornwall Business Park with many industries and distribution centres reporting growth. The Business Park also welcomed Evotech, a new coatings manufacturer, as well as Source Wood and Bourgon Construction.
Cornwall's commercial sector saw record levels of growth with Boston Pizza and Future Shop opening in 2014. A new commercial plaza by Smart Centres is also set to open in early 2015.
Downtown Cornwall remains a vibrant and popular destination with residents and visitors alike, with new restaurants (Love Love Food), new and renovate shops (Mindful Cookery, Cottage Blue Kids Korner) and the re-opening of Ontario's oldest inn (Chesley's Inn). Downtown even welcomed an indoor hydroponic farm in Smart Greens.
Residential development activity was also high this year with 128 family units being constructed, almost triple the amount in 2013. In addition to subdivision development, major projects such as Knox City Centreand the Cotton Mill Lofts are helping to attract new residents to Cornwall.
Mr. Boileau also documented investments in the institutional sector, highlighting major projects at the Hospital, College, City Wastewater Treatment Plant, Canada Customs and the Seaway International Bridge.
"Most of the development in the institutional sector will not appear in our building permit totals, but it creates significant economic spin-off," says Mr. Boileau.
Many of the companies, individuals and organizations mentioned in Mr. Boileau's report were featured in a story on this website. You can view these stores via the News page, or via the new Cornwall Pingstreet app for smartphones.
The meeting was kicked off with greetings by Mayor Leslie O'Shaugnessy, who introduced the new City Council.
Team Cornwall Chair Peter Gault also presented highlights from activities by the local ambassadorial group over the past year.
"Cornwall once again is leading the way when it comes to attracting new investment and new residents," said Mr. Gault. "It starts with the people in the room this morning, but extends to all our ambassadors, young and old."
Mr. Gault also welcomed guest speaker Jean-Luc Brassard, the newly minted Chef de Mission for Canada's Olympic Team in Rio 2016.
Mr. Brassard, who lives nearby in Valleyfield, noted the similarities between Team Canada and Team Cornwall, and that the key to success is to work together towards a common goal.
"People looking to invest will be impressed how positive people in Cornwall are, and how welcome the community is to outsiders."
TVCogeco filmed the meeting, and will be broadcasting it on a number of occasions.
Get the report!
A copy of Mr. Boileau's presentation can be downloaded from the Resources section of this website.
Watch a VIDEO of people attending the meeting, including Olympian Jean-Luc Brassard!