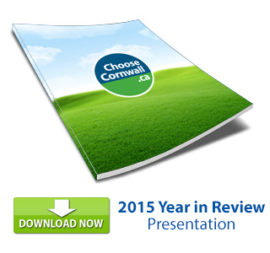 2015 Brings Another Year of Positive Growth
December 16, 2015
Cornwall Ontario – Cornwall's economy recorded another positive year of growth, according to the 2015 Year in Review report issued by Cornwall Economic Development.
The report was delivered by Senior Development Officer Bob Peters to over 300 community and business leaders at a Team Cornwall event at Galaxy Cinemas. The presentation will be broadcast several times on TVCogeco Cornwall.
"The Year in Review gives us a chance to reflect on the collective successes of the past year and celebrate the many things that make our community such a great place to call home," said Mayor Leslie O'Shaughnessy. "Cornwall is going through an exciting period of change. New restaurants and businesses are opening in the City's commercial areas. Subdivisions are being built out in various corners of the community. The transformation of the Cotton Mill district is well on its way. These factors – together with many others – give us plenty of cause for optimism for 2016 and the years ahead."
The Year in Review report recapped development, investments and achievements by businesses and individuals throughout the year. Here are some of the highlights:
Building permit values are expected to top out at over $55 million dollars
Major residential projects include the Cotton Mill, Knox City Centre and Promenade Miller
The economic impact of tourism in the region in 2015 is estimated at over $221 million
Over 85,000 people attended the Plowing Match in nearby Finch this September
Cornwall's event calendar was busier than ever, with popular Food and Beer festivals
CAPE, Cornwall's comic-themed showcase, will seek to build on its inaugural success in 2016
The Shorty Jenkins Classic was a popular addition to an impressive lineup of major sporting events
Bridgewood is the name of the new elementary school
Agapè Centre and the St. Lawrence Seaway retrofitted their downtown headquarters
The Cornwall Community Hospital is in the middle of two significant projects
The dismantling of the old Seaway Bridge tops the news stories of 2015
Cornwall's iconic water tower gets a facelift
Cornwall's waterfront will be getting a historic walking trail to go along with water bottle filling stations
Small businesses led the economy with dozens of stories of investments and expansions
ESCA restaurant and Kings and Little Ones added to vibrant downtown core
New businesses relocate to Le Village
The Edison Building is now home to a new pharmacy and medical offices
Smart Centres welcomes Walmart and Dollar Tree
Lamincorr, Olymel, Seaway Yarns and Ridgewood make major investments in local plants
SigmaPoint and MPIQC continue to grow
Smart Greens wins multiple awards
Benson caps $6 million expansion
Walmart Logistics acquires second distribution centre
The above is just a sampling of the dozens of stories referenced in the Year in Review report, which can be downloaded in the Resources section of this website.
"I always look forward to this event," said Paul Desnoyers, a partner with Craig Keen Despatie and Markell. "It's great to get a wrap-up of all the incredible things that happened in Cornwall over the past year. 2015 was another great year and 2016 promises to be even better!"
The report also outlines dozens of accomplishments, anniversaries and achievements by local individuals, such as the gold winning skills of world kickboxing champion, Emily Vallance.
"We hope that people will take away this information and spread the word that good things are happening in Cornwall," said Peter Gault, Chair of Team Cornwall.