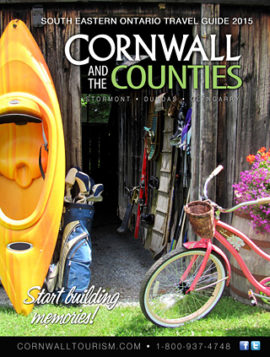 2015 Visitor Guide Celebrates Cornwall and the Counties
January 12, 2015
Cornwall Ontario – Cornwall and the Counties Tourism (CCT) has unveiled their latest in a long line of annual Travel Guides designed to showcase the entire region as an excellent travel destination.
The 2015 Travel Guide transitioned to a full-sized magazine format in 2013, and the response has been very positive. The magazine features great imagery, interesting editorial and, of course, all the information a potential visitor might be looking for. The guide features listings of restaurants, accommodations, attractions, calendar of events, and more to entice visitors to the area and prepare them for their trip.
"The Travel Guide is something we get excited about each year," says Linda Wilson, Executive Director of Cornwall and the Counties Tourism. "We are always impressed with the amazing assets we have in our communities, and we are proud to produce an excellent companion for potential visitors to the Cornwall and the Counties region."
The Tourism Office has increased the production of the magazine in both official languages due to the positive feedback and successful distribution of the guide. This year 50,000 English guides, and 7,500 French guides have been printed, an increase from the 45,000 English and 2,500 French that were printed in 2014.
Cornwall and the Counties Tourism plans a 20,000 English copy drop in the English West Island newspaper, The Chronicle, as well as a 5,000 French copy drop in the city of Gatineau.
As with years past, Tourism staff will be bringing their guide to three trade shows to further promote the region in the outer markets. This year, the CCT team will attend the following trade shows:
Montreal Velo Show (February 13-15)
The Outdoor + Adventure Show (March 21-22)
The Ottawa Travel & Vacation Show (March 28-29)
"Trade shows are an excellent way for us to engage with our target market," Wilson explains. "We have had great success with these tradeshows in the past, and we see great value in reaching the outdoor and family travellers in the Montreal and Ottawa markets."
Get Your Copy!
The 2015 Travel Guide is available at the Cornwall and the Counties Visitor Information Centre at 691 Brookdale Avenue and at designated Visitor Information kiosks across Cornwall and SDG. Visitors can alos pick up a copy at select ONroute Centres.
You can request a complimentary copy be mailed to your home via CornwallTourism.com or via the Request Info form on this website.
About Cornwall & The Counties Tourism
Cornwall & The Counties Tourism works with tourism businesses to promote Cornwall & the United Counties of Stormont Dundas and Glenggarry as a visitor and convention destination. The office provides visitors with detailed information on attractions, accommodations, shopping, dining, festivals and events. The organization is funded by the City of Cornwall and the United Counties of SDG.
More info can be found online: