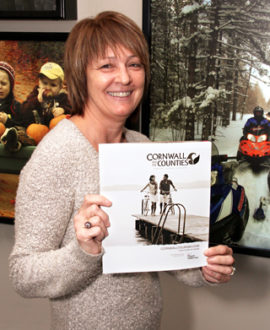 2016 Travel Guide Now Available
January 13, 2016
Cornwall Ontario -The 2016 Travel Guide for Cornwall and the Counties has fresh clean look with a new, sleek size.
The guide is popular with tourists looking to the visit the region, and the improvements this year reflect comments from previous visitors. New this year is the addition of easy to follow charts, maps, and helpful descriptions that allow readers to easily discover pertinent information about each listing.
"We're always trying to improve our annual Travel Guide," says Linda Wilson, Executive Director of CCT. "We felt that it was important to incorporate additional information in the guide that gave readers more details of our region's assets, so they can easily determine which accommodations, attractions, recreational activities, etc. are right for them."
The 2016 edition is a partially bilingual guide, with descriptive text and introductions all appearing in both official languages. "Producing the guide in this bilingual format is more economical than producing a stand-alone French edition," Wilson adds.
CCT staff will be on hand at a variety of trade shows this year to distribute the new guide and have valuable face-to-face time with target audiences. The organization has increased trade show attendance to 5 shows for 2016, from 3 shows in 2015.
Salon du Velo (Montreal) February 12-14
International Bicycle Show (Toronto) March 4-6
Salon du Golf (Montreal) March 11-13
Salon Aventure et plein air (Montreal) April 3-4
Travel and Leisure Show (Ottawa) April 9-10
"Cornwall and the Counties is becoming a popular destination for people looking for active vacations," says Ms. Wilson. "More Canadians looking to stay closer to home this year, and the region offers a variety of amenities, not the least of which is the Waterfront Trail and St. Lawrence River."
Tourism had a positive impact of $221 million on the local economy in 2015, according to Cornwall and the Counties Tourism staff.
Get Your Copy!
30,000 Travel Guides have been printed and will soon be available in CCT's brochure kiosks found in high traffic areas such as hotels, shopping centres, and signature attractions throughout the region, as well as in the Visitor Information Centre. Travel Guides are also distributed to outer market travel centres, expanding the reach of the publication to target markets in Northern New York, Western Quebec, and areas of Southern and Eastern Ontario.
You can order a free copy of the 2016 Travel Guide by using the Request Info form on this website.
About Cornwall & The Counties Tourism
Cornwall & The Counties Tourism works with tourism businesses to promote Cornwall & the United Counties of Stormont Dundas and Glenggarry as a visitor and convention destination. The office provides visitors with detailed information on attractions, accommodations, shopping, dining, festivals and events.
One of the key publications developed by the Tourism office is the Travel Guide, an 80-page booklet that features information on events, attractions, and accommodations, as well as a map of the area. You can order the guide free of charge via the Request Info page on this site.
For more information on Cornwall and The Counties Tourism, please check them out online:
Categorised in: Business