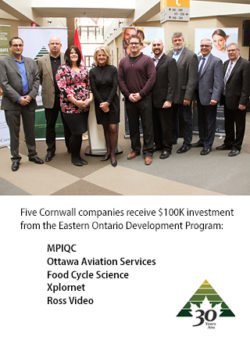 $500K Investment in Cornwall Companies
November 30, 2017
Cornwall Ontario – Four Cornwall companies, along with one from nearby South Dundas, have received a significant injection of cash from the Eastern Ontario Development Program.
Plans to accelerate innovation by Food Cycle Science, Xplornet Communication and Ottawa Aviation Services were supported along with support of advanced manufacturing expansion projects at M.P.I.Q.C. and Ross Video.
"The Government of Canada knows that support for entrepreneurs and small business has the potential to drive real innovation and strengthen our economy," said Navdeep Bains, Minister of Innovation, Science and Economic Development, and Minister responsible for FedDev Ontario. "From communications technology to skills training to innovative manufacturing, these projects are creating jobs in a number of key areas and will mean lasting benefits for the region."
The total investment of up to $500,000, ($100K per company), will be matched by $1,861,666 in incremental private investment. These combined projects will create up to 85 new full-time positions within Eastern Ontario.
"We continue to dedicate ourselves to providing an optimal business environment for companies to grow and thrive," said Lesley Lang, Executive Director, Cornwall & The Counties CFDC. "With our partners, we are actively developing more programs and services to further support dynamic, innovative companies, such as these, in the region. "
More About the Recipients
Food Cycle Science – Offering a greener solution to food waste management through residential and commercial compost development technology, Food Cycle Science have invested this funding into the launch and commercialization of the IC-25 ─ a new, countertop, indoor composter to replace the "green bin."
Xplornet Communications – Canada's leading rural broadband internet provider specializes in bringing service to the hard to reach places and tackling Canada's vast geography. Funding has been invested into Xplornet's aggressive network expansion through the opening of a multi-functional Cornwall location.
M.P.I.Q.C. Inc – A global leader within the electronic manufacturing sector with the ability to handle custom complex projects from all key markets including Communication, Commercial, Medical, Military and Space. This funding has gone into the investment of equipment innovation to meet customer demands and increase efficiency.
Ottawa Aviation Services – An innovation-driven global Flight Training Organization focused on aviation skills training and career path development, funding has gone into the establishment of an international flight training school at the NAV Centre in Cornwall.
Ross Video – With products found in over 100 countries Ross Video designs, markets and manufactures a wide range of innovative products for use in broadcast, distribution, live-event and production applications. Ross Video has invested this funding into business expansion through acquisition and manufacturing innovation.
The CEDP stream of the Eastern Ontario Development Program is an initiative from the Federal Economic Development Agency for Southern Ontario (FedDev Ontario) and is overseen by the Northumberland CFDC, which works with the 14 other CFDCs of Eastern Ontario.
This momentum aligns Eastern Ontario with the Government of Canada's goal to make Canada a global centre for innovation – one that creates jobs, drives growth across industries and improves the lives of Canadians.
"Northumberland CFDC is pleased to support the momentum of Eastern Ontario innovation, specifically across business manufacturing practices and innovation driven enterprises," said Wendy Curtis, Executive Director, Northumberland CFDC About Northumberland CFDC.  "Positioning the area and local economy to meet the increasing demands of its customers and competing on a global scale."
About the Eastern Ontario Development Program (EODP)
The Eastern Ontario Development Program (EODP) is a $48-million initiative that advances economic development in rural eastern Ontario. Through EODP, FedDev Ontario is collaborating with Community Futures Development Corporations (CFDCs) in eastern Ontario and Community Futures Ontario East to promote the growth of new and existing businesses in rural communities.
About Cornwall & The Counties CFDC
Cornwall & The Counties CFDC, through funding from the Federal Economic Development Agency for Southern Ontario (Fed Dev Ontario) delivers a wide variety of programs and services to support community economic development and small business growth. It employs local staff and are governed by a volunteer board of directors, made up of residents representing the community.
Categorised in: Business