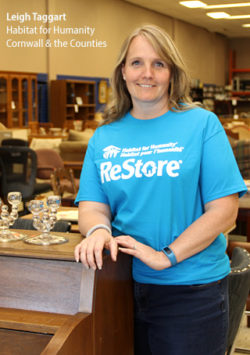 A New Home for Habitat
September 22, 2017
Cornwall Ontario – Habitat for Humanity is enjoying its new home in Cornwall.
The non-profit organization relocated its operations in August, including the popular ReStore, to 1400 Vincent Massey Drive.
"The new location is fantastic as it is gives us a much higher profile, and at the same time is much more convenient for our customers, says Leigh Taggart, Executive Director for Habitat for Humanity, Cornwall & the Counties. "We are introducing our brand to new people every day, and public reaction has been very positive."
The move from the previous location in Bonville, just north of Cornwall, represented a leap of faith for the organization.
"This move is really the next step in the evolution of our organization," said Mrs. Taggart.
The ReStore sells both new and used home improvement and renovation products including furniture, appliances, home décor and building materials.  With donations coming in daily, inventory is constantly changing.
As a nonprofit organization and with all products being donated, purchases are not subject to sales tax.  Donors can also receive a tax receipt for the resale value of items donated.
Donors are encouraged to drop off items during regular business hours or contact the ReStore directly to make arrangements to pick up larger, heavier items.  Volunteers are the driving force of the organization and there are numerous opportunities for those who are interested in helping.
"Supporting Habitat helps strengthen our local community," says Mrs. Taggart "We raise money through sponsorship opportunities, financial contributions, events and ReStore sales to build local homes which help local families flourish and local children thrive.  The need is very real and the outcome of suitable, affordable, stable homeownership helps break the cycle of poverty and has positive effects on the entire community."
Since 1998, Habitat for Humanity has built 12 homes for local families with 28 children in Cornwall and SDG.
"Building homes is an expensive project, and would not be possible without sales from the ReStore, and donations of time and building material from volunteers and sponsors," says Mrs. Taggart. "Of course we're proud that we've built 12 local homes but we recognize that we can do more – that we need to do more."
Homes are built by generous donations from local companies and individuals who often reduce fees or provide free products and/or services.  Volunteers and corporate teams make up a significant component of the workforce.  Local townships including the City of Cornwall will often donate land, and waive fees to help facilitate local builds.
Restore Location and Hours
The ReStore is located at 1400 Vincent Massey Drive in Cornwall. It is open Monday – Friday 9am to 7pm and Saturday-Sunday 9am to 5pm.
Connect with Habitat for Humanity Cornwall & The Counties by callling (613) 938-0413 x200 or visit them online:
Categorised in: Business