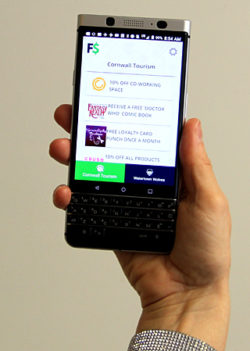 App Promotes Tourism and Shopping in Cornwall
March 23, 2018
Cornwall Ontario – There has never been a more rewarding time to be a fan of Cornwall.
The new FanSaves app is giving Cornwall visitors and residents a new reason to explore the community – and to save at the same time. Users of the app can now access the Cornwall Tourism section to take advantage of free discounts and offers from local establishments. Over 20 businesses have signed on with more expected to join in the near future.
"People can save money just for being a fan of Cornwall," said Shannon Ferguson, co-founder of FanSaves along with Kris McCarthy.
Through the free app, users scan the unique FanSaves code at the point of purchase at participating businesses and receive the discount or special offer.
"FanSaves is a great tool to showcase some of the many great things we have to offer in Cornwall," said Kevin Lajoie, Tourism Coordinator with the City of Cornwall. "The app appeals to both tourists visiting Cornwall and residents who want to be tourists in their hometown."
Some of the participating establishments to date include Jet Set Pub, Pizza Hut, Floral Expressions, Pommier Jewellers, Fantasy Realm, Shortline Convenience & Video, 241 Pizza, The Glengarrian Pub & Restaurant, The Squire Shop, Deke & Squeaks, the Cornwall Innovation Centre, Serendipty Boutique, Echo Trends, Crush Lane and Rack-M-Up Billiards with more being added daily.
Get the app!
The FanSaves co-founders will scale their app into bigger cities beginning this summer and are currently in the process of gathering crucial data so they can do so.
"Cornwall has been a great market to launch from and this is such an easy way for the people of this area to support something that has the potential to become a global tool in the sponsorship sector," said Mr. McCarthy.
FanSaves is a green-lit company of the Cornwall Innovation Centre's Lead to Win Program and has worked with local software company Daydream Development to develop their platform.
Ferguson and McCarthy both noted that plans to continuously improve the app are in the works and that additional functionalities are currently on the docket.
"We are always thinking of ways to make the app and our business model better and we realize that being able to pivot is the key to moving forward," said Ms. Ferguson.
The app is free to download and currently available on the Playstore or App Store with Cornwall Tourism as an umbrella to choose from.
Businesses who wish to be featured on the app are asked to email fansaves@gmail.com.
For more information on FanSaves, check out FanSaves online:
Categorised in: Business