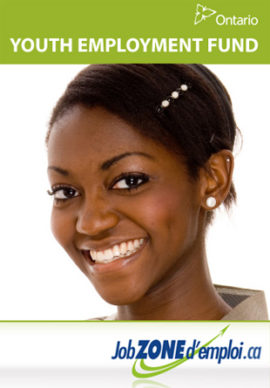 Applications Open for Province's Youth Employment Fund
October 2, 2013
Cornwall Ontario – Young people in Cornwall and the Counties have another tool in their tool box when it comes to securing new employment and gaining valuable work experience.
The Youth Employment Fund offers a number of financial incentives that make matching job seekers with potential employers that much more attractive. The fund, which facilitates job placement and training, is available to young workers, who are residents of Ontario, between the ages of 15 and 29, unemployed and not attending school full-time.
Job Zone d'emploi is the co-ordinating agency that will place eligible youth with employers Cornwall and the counties of Stormont and Dundas. Local Job Developer Amy Dingwall has already seen some success.
"We have to-date placed 6 people with local employers," said Ms. Dingwall.
The program offers a number of benefits to employers. Up to $7,800 per participant is available for a combination of individual supports, training supports and employer hiring incentives. The benefit to the job seeker is a personalized job placement that fits their skills, job experience and skills upgrading, along with funds to help pay for job-related costs like tools and transportation to work.
"Approximately 40% of our clients are youth, and often this group of people has trouble finding jobs because they may not have relevant experience," said Wendy Woods-Fontaine, Executive Director of Job Zone d'emploi. "This program not only provides experience, but it can lead to full-time permanent employment."
The Youth Employment Fund is part of the new Ontario Youth Jobs Strategy, which will help young people find jobs and ensure that employers can find the skilled workers they need to grow their businesses.
"When we help young people enter the workforce, we are helping them and the communities they live in grow and thrive," said Dr. Eric Hoskins, Minister of Economic Development, Trade and Employment. "Connecting Ontario's youth with meaningful employment will drive innovation and economic growth across the province."
About Job Zone d'emploi
Job Zone d'emploi has been providing assistance and helpful resources to employers in the City of Cornwall and counties of Stormont and Dundas for over 28 years. Job Zone offers a variety of free and confidential services, information on which can be found on their website at:
The Glengarry Interagency Group is the co-ordinating agency for the Youth Employment Fund in the North and South Glengarry.