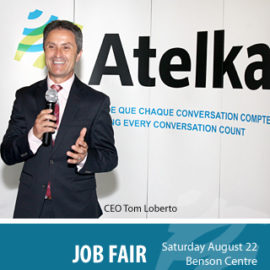 Atelka Adds 200 New Jobs to Cornwall Contact Centre
August 21, 2015
Cornwall Ontario – The largest independent Canadian customer contact management company announced today the expansion of its business in Cornwall, Ontario.
Atelka plans to hire 200 additional full-time English-speaking customer service representatives in the coming weeks. The Cornwall site was originally established in 2013 with 155 agents. This round of hiring will bring the total employee count close to 400 people.
Atelka's steady growth in Canada over the last several years, expert knowledge in customer life-cycle management and track-record in innovative multilingual contact solutions are key elements of Atelka's growing success.
"This expansion is excellent news for both Atelka and Cornwall," said Tom Loberto, CEO, Atelka. "We are choosing to continue to expand and invest in Ontario and we are proud to be a Canadian-based business that offers skilled employment opportunities for Canadians. We are delivering on our promise to provide meaningful jobs to the Cornwall community and to contribute to local business development."
Atelka is currently completing significant renovations to its modern office on Tollgate Road East with the help of local contractors such as DeSaulniers Construction.
"On behalf of the Cornwall City Council, I would like to congratulate Atelka on its continuing growth and thank them for this significant investment in Cornwall," said Mayor Leslie O'Shaughnessy. "These new jobs will not only have an immediate positive impact, but will serve to further diversify the local economy."
Atelka offers competitive wages, paid training and a quality work environment. The new positions will offer employment opportunities for English-speaking candidates.
"We are thrilled to announce that with our growth in Cornwall comes the creation of 200 additional English-speaking customer service representative positions," added Atelka President Jeanine Giorgi. "We are confident that with the extensive knowledge, multiple skills and solid experience of the Cornwall workforce, we will be able to provide excellent service to our partners' customers."
Job Fair
Atelka will host a job fair this Saturday, August 22 from 9 a.m. to 7 p.m. at the Benson Centre (800 Seventh St. W., Cornwall). Interested candidates with customer service experience and good communication skills are invited to attend the job fair with their resume.
People can also apply online at www.atelka.com or view the job postings on the Work in Cornwall job board.
Atelka offers paid training, competitive benefits and career-growth potential.