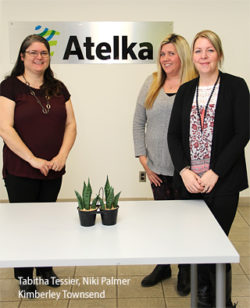 Atelka Holding Job Fair on October 4
September 29, 2017
Cornwall, Ontario — Atelka is once again launching a drive to hire additional people for its Cornwall Call Centre.
The company will be holding a Job Fair at the Cornwall Civic Complex on Wednesday October 4 from 9am to 3pm. Job seekers will have the chance to speak with Atelka's recruitment team.
"We are looking to hire 100 customer experience representatives (English-speaking and bilingual) before the end of the year," said Kimberly Townsend, Recruiter.   "We invite people to drop by the Job Fair and learn first hand how rewarding a career with Atelka can be."
Early this year, the company announced that it will be hiring an additional 450 full-time people for its Cornwall workforce. The Cornwall location currently employs 300 people.
Atelka first established its office in Cornwal in March 2013 in a modern building on Tollgate Road. In 2015, the Company announced a major expansion and the addition of 200 new jobs. In November 2016, Atelka was acquired by TeleTech, a leading customer service provide and continues to grow, due in no small part to the engaged and professional team in Cornwall.
"TeleTech Canada Solutions offers our client partners innovative ways to deepen engagement with their customers through a full platform of services," said Niki Palmer, Cornwall Call Centre Director, TeleTech Canada Solutions . "We are looking for dedicated people in Cornwall to join our customer experience team, who will thrive in a fun and dynamic environment, and embody our company values to live life passionately and reach for amazing."
TeleTech is a world leader in customer experience, with 48,000 employees worldwide. Together, we help companies create exceptional customer experiences that strengthen customer engagement and drive revenue growth.
Cornwall employees benefit from the opportunity to support a global company while earning competitive pay and benefits packages including exciting employee rewards, bonuses and performance recognition. Career advancement opportunities are available due to industry-leading professional development programs and continuous investment in employees with 95% of advancement within our Cornwall location being internal.
For more information and to apply to work at the Cornwall location, please visit atelka.com or drop by during office hours Mon-Fri 9am to 5pm at 10 Tollgate Road.
Category: Business
Categorised in: Business