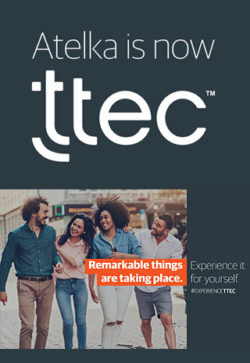 Atelka is now TTEC
January 12, 2018
Cornwall Ontario – Atelka has changed its name to TTEC.
The name change also affects parent company TeleTech, and all of its divisions.
The new name affirms that the company has successfully evolved to become an end-to-end strategic business partner in the design and delivery of world-class customer experience, engagement, growth, and digital trust and safety services.
"For 35 years we have helped our clients find the best mix of human talent and technology to delight their customers," says Ken Tuchman, Chairman and Chief Executive Officer of TTEC. "With our evolved name, we will continue our mission to deliver humanity to the customer experience using the best blend of technologies and human intelligence".
A leading customer service provider with over 300 employees in Cornwall, Atelka first opened its office in Cornwall on Tollgate Road in 2013. In 2015, the company announced a major expansion and the addition of 200 new jobs. In November 2016, Atelka was acquired by TeleTech, a leading customer service provider with 48,000 employees worldwide.
"Our clients are relying on us for transformative services that engage and strengthen their customer relationships day in and day out," says Mr. Tuchman. "After eight years of innovation and investment to build a holistic technology-enabled, data-rich customer engagement services platform, TTEC is uniquely positioned to respond to growing market demand."
"While we remain proud of the industry we pioneered and helped to build, we chose to part with our old name because it limited the perception and understanding of our full capabilities, potential and value."
Employment Opportunities
TTEC continues to recruit to build its workforce in Cornwall. You can find links to job postings on the Work in Cornwall page.
Cornwall employees benefit from the opportunity to support a global company while earning competitive pay and benefits packages including employee rewards, bonuses and performance recognition. Career advancement opportunities are available due to industry-leading professional development programs and continuous investment in employees with 95% of advancement within our Cornwall location being internal.
Categorised in: Business