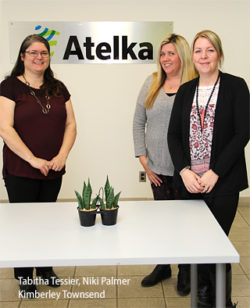 Atelka Launches Major New Recruitment Drive
April 11, 2017
Cornwall, Ontario — Atelka is looking to significantly boost its operations in Cornwall.
The company has announced that it will be hiring 450 full-time English-speaking and French and English bilingual customer experience representatives this year.
To assist with this effort, Atelka will hold a series of Job Fairs at the Cornwall Civic Complex:
Tuesday April 18 – 10-7
Wednesday May 17 – 10-3
Job seekers will have the chance to speak with company officials.
Atelka first established its call centre in March 2013 in a modern building on Tollgate Road. In 2015, the Company announced a major expansion and the addition of 200 new jobs. In November 2016, Atelka was acquired by TeleTech, a leading customer service provider.
"TeleTech Canada Solutions offers our client partners innovative ways to deepen engagement with their customers through a full platform of services," said Niki Palmer, Cornwall Call Centre Director, TeleTech Canada Solutions . "We are looking for hard-working people in Cornwall to join our customer experience team, who will thrive in a fun and dynamic environment, and embody our company values to live life passionately and reach for amazing."
TeleTech has more than 3,000 employees throughout eight Canadian locations across several provinces including Ontario and Quebec. Speaking up to six languages, TeleTech employees in Canada serve clients in telecom, logistics and entertainment. During 2016, more than 400 customer experience representatives joined the TeleTech team at the Cornwall customer experience center.
Cornwall employees benefit from the opportunity to support a global company while earning competitive pay and benefits packages including exciting employee rewards, bonuses and performance recognition. Career advancement opportunities are available due to industry-leading professional development programs and continuous investment in employees with 95% of advancement within our Cornwall location being internal.
For more information and to apply to work at the Cornwall location, please visit atelka.com.
About TeleTech
TeleTech (NASDAQ: TTEC) is a leading global provider of customer experience, engagement and growth solutions. Founded in 1982, the Company helps its clients acquire, retain and grow profitable customer relationships. Using customer-centric strategy, technology, processes and operations, TeleTech partners with business leadership across marketing, sales and customer care to design and deliver a simple, more human customer experience across every interaction channel. TeleTech's 48,000 employees live by a set of customer-focused values that guide relationships with clients, their customers, and each other.
Categorised in: Business