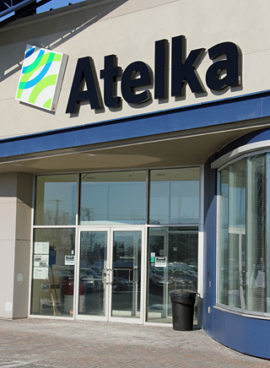 Atelka Offering A Paid Training Course For New Hires
March 6, 2014
Cornwall Ontario – Atelka is currently recruiting for additional bilingual costumer service agents.
The company is starting a 5-week training session on Monday March 31st, and is hoping to have upwards of 30 people sign up. New hires taking the training course are paid while in class.
Atelka is celebrating its first anniversary in Cornwall, and since its opening it has steadily grown its business and added positions at its state-of-the-art call centre on Tollgate Road. In fact, the company was recently named Business of the Year by the Cornwall and Area Chamber of Commerce.
"We are extremely pleased with our Customer Contact center team in Cornwall," said Elizabeth Tropea, Atelka Board Member. "We are working hard to continue growing our business in Cornwall in order to create more jobs and contribute to the economic development of the community."
Job seekers are invited to come meet Atelka recruiters at the Cornwall office. There is still time to sign up for the training course. Interested people should bring their resume and 2 valid IDs.
You can find a link to Atelka's online job posting on the Work in Cornwall page.
Employees are at the heart of Atelka's success. That is why the company rewards excellence and promotes internally. Here's what a few Cornwall Atelka employees have to say about working at Atelka:
"Just like a family we have room to grow, that's what we are here at Atelka …. a family. I have also personally grown with the company from agent to coach to supervisor. "
Chantal Longtin, Supervisor
"I have been here since day-one and I get to work each day with friends while enjoying a career building experience and opportunities one call at a time." 
Melanie Lefebvre, Supervisor
About Atelka
Founded in 2003 by two Montreal entrepreneurs, Atelka is a Canadian company offering businesses a complete line of business process outsourcing (BPO) services. Ranked 7th fastest growing company in Quebec by Les Affaires, Atelka is also the largest independent call center company in Canada employing over 2000 people across 9 sites in Quebec, Ontario, New Brunswick and PEI. Atelka's business solutions are bilingual and cover all existing client-contact platforms. Atelka is made up of a team of focused professionals working in a stimulating atmosphere. Atelka is proud of the talent diversity in its work force, where employees enjoy the following benefits:
Paid training
Meaningful fringe benefits
Career plan
Competitive salary
More information: www.Atelka.com